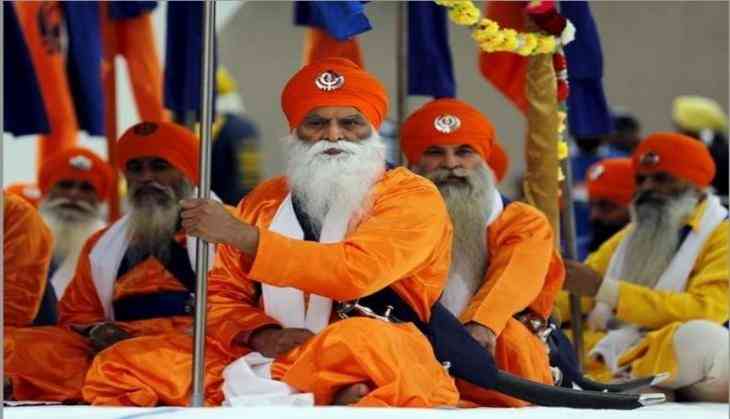 The Sikh bodies on Tuesday launched an original Nanakshahi Calender around the world, to restore the original Nanakshahi Calender (2003) and appeal to the Shiromani Gurdwara Parbandhak Committee to take consensus of the Sikh bodies and adopt the original calendar and not the distorted one.
At Akal Takhat the highest temporal seats of the Sikhs, the Sikh leaders assembled and after performing they released the Nanakshahi Calander for the year 549.
"We are determined to restore the Nanakshahi calendar to its pristine glory. The Bikrami khichdi will not work for long," said Dal Khalsa president Harpal Singh Cheema.
Party's spokesperson Kanwerpal Singh said that the dates of Guru Nanak Sahib's Gurpurab, Bandi Chor and Hola Mohalla were not fixed as per Nanakshahi at the time of its launch in 2003 under pressure from non Sikh lobby, they will build consensus amongst the community to fix these dates too.
Notably, the calendar was designed and prepared by Canada-based Pal Singh Purewal, accepted by the SGPC general house and ratified by the Akal Takht Sahib in March-April 2003 but debunked by the SGPC in 2010.
Interestingly, it was during the tenure of Kirpal Singh Badungar the calendar was launched in its original form in 2003 and few month back Badungar reappointed the President of SGPC the premier bodies of the Sikh.
Various Gurdwaras in USA also lunched the original Calendar.
American Gurdwara Parbhandhak Committee (AGPC) coordinator informed that they have rejected the amended Nanakshahi Calender which is distortion of the original Calendar adopted by the SGPC and approved by the Sikhs' highest temporal seat Sri Akal Takht Sahib in 2003.
"We follow the original 2003 version of the calendar and reject the distorted one which has been released by the SGPC now'', said Dr. Pritpal Singh.
He said all the dates including the Gurpurabs and other related historical days would be observed by most of the Sikhs in US as per the original Nanakshahi Calender.
"The present SGPC President Kirpal Singh Badungar was the Chief of the SGPC when the Calendar was adopted in 2003. So he should honour the Sikh sentiments and only the original Calendar should be adopted'', they said in the statement.
The U.S. Sikh leaders also said that the SGPC chief must take the lead and hold dialogue with the other Sikh bodies as the community is divided over the issue of the Calendar and thus strike a consensus to adopt the original Calendar. They also congratulated the Sikh community members on the eve of the New Year today.
The Pakistan Sikh Committee also launched the Original Calander on yesterday.
Permit Singh Sarna, former president of Delhi Sikh Gurdwara Management Committee while favouring the original Nankshahi Calander, ruled that the SGPC has been working under some outside influence and wrongly made unwanted ammedments in the original calendar.
He appealed to the Akal Takht to call a meeting of Sikh scholars and the creator of the calendar the after making consensus resolves the confusion.
-ANI