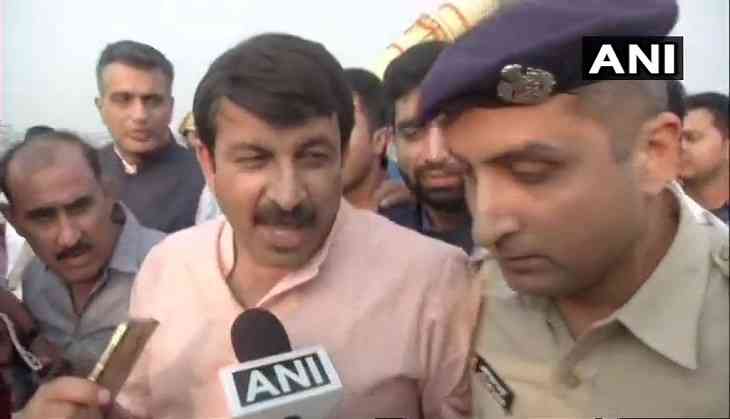 The inauguration of the Signature bridge in Delhi has courted more controversy than a hearty welcome of the bridge, wherein BJP MP Manoj Tiwari got into a scuffle with AAP supporters and Delhi police.
The Aam Aadmi Party had not invited the ruling BJP to the inauguration of the bridge but Delhi BJP chief Manoj Tiwari had reached the spot with his supporters, claiming that he was invited.
Thereafter, a scuffle between the two groups broke out and Manoj Tiwari was spotted hitting Delhi police and the video went viral. But, today Manoj Tiwari has written to the Deputy Commissioner of Police in northeast Delhi that AAP MLA Amanatullah Khan, Delhi CM Arvind Kejriwal and other unknownm people were involved in pushing, hitting and other kinds of violent act, carried out during the event.
BJP leader Manoj Tiwari has alleged that AAP MLA Amanatullah Khan was present during the event and he was seen pushing Tiwari during the Signature bridge inauguration on November 4.
BJP leader Manoj Tiwari had said, "In my constituency (North East Delhi.), I re-started construction of the bridge after it was stalled for many years & now Arvind Kejriwal is organising an inauguration ceremony."
He further added that, "I was invited to the inauguration event. I am MP from here. So what's the problem? Am I a criminal? Why has the police surrounded me? I'm here to welcome him (Arvind Kejriwal). AAP&police have misbehaved with me."
Delhi CM Arvind Kejriwal had tweeted "Unprecedented. Chaos by BJP at Signature Bridge inauguration site. Its a Del govt prog. Police mute spectator. Can LG, being head of Del police, ensure peace and order at Signature bridge inauguration site?"
Also read: Sabarimala temple row: 52-year old Lalitha, devotee from Thrissur, enters the temple under police protection
BJP Delhi Chief M Tiwari writes to DCP northeast Delhi&files complaint against AAP MLA Amanatullah Khan, Delhi CM&unknown persons. A Khan was seen pushing M Tiwari during Signature Bridge's inauguration on Nov 4;M Tiwari,his supporters&AAP supporters had also entered into scuffle pic.twitter.com/YCD7OSb6Bq

— ANI (@ANI) November 6, 2018