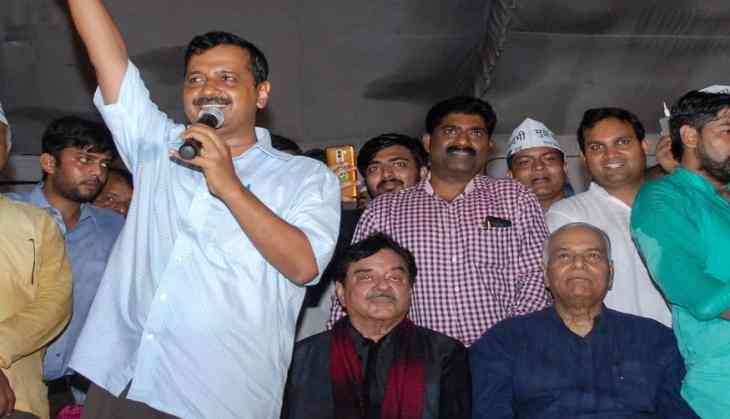 Delhi chief minister Arvind Kejriwal and Aam Aadmi Party chief slammed PM Modi government on the 'Rafale deal scam' and said Congress was corrupt but BJP is more corrupt than them. Former Union Minister Yashwant Sinha and sidelined BJP MP Shatrughan Sinha joined him in slamming the Narendra Modi government.
Almost five years ago people had ousted the Congress from power because of its indulgence in corruption with a hope that the BJP government would usher in change, Kejriwal said, adding both the parties are "ghotaale baaz (corrupt)".
He said, "I got to know about Rafale scam. I hear they have bought some fighter planes at exorbitant prices."
"Yashwant ji is saying that one aircraft, for our defence forces, was priced at Rs 540 crore which was bought by them for Rs 1,670 crore. Someone somewhere must have made some money. Or they have given it for free? But who made the money?" he asked.
"They have turned out to be more corrupt than them. If they did 2G, the other has done Sahara-Birla diary scam, if they did the Commonwealth scam, the other has done the Lalit Modi scam. If they did Bofors scam, the other has matched them with this Rafale scam," he said.
Yashwant Sinha praised Sanjay Singh for his 250-km walk in Uttar Pradesh and took a jibe at some politicians saying, "Nowadays those participating in debates on TV channels are considered leaders."
"Some think the citizens of this country are fools and the media is under their control. But the people will no longer accept this. They will punish those guilty in the next election," said Yashwant Sinha.
Also read: 2019 Lok Sabha Election: BJP to fight 2019 Elections under Amit Shah's leadership, internal polls for new chief deferred, says sources