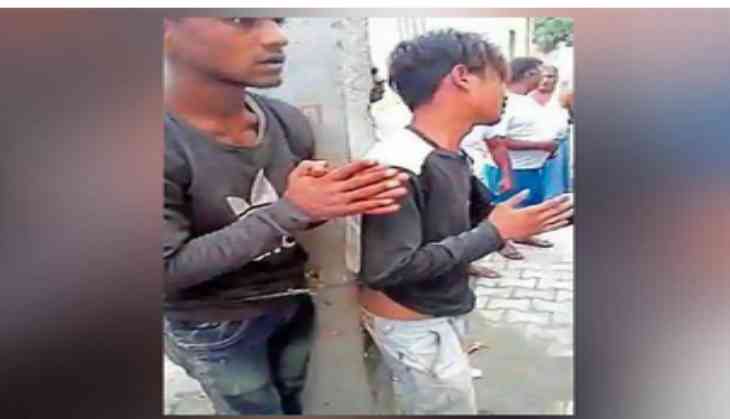 In a shocking incident, two young boys were allegedly thrashed and beaten up by a belt in Ghaziabad's Loni. The youths were later tied to an electricity pole over a suspicion of theft. The incident took place in Uttar Pradesh's Ghaziabad, after which police registered an FIR and arrested two men, a resident of Khushhal Colony.
The police said the two youths, Asif and Iqbal, aged around 19 and 20 years, belongs to the same locality and was nabbed by locals on early Tuesday. They were severely beaten with belts and were also punched and kicked.
The men who had allegedly beaten up them were identified as Dheeraj Tripathi and Divyansh Rathor, were arrested in connection with the incident. The incident was filmed on the mobile phone by some locals and was later circulated widely on social media.
"After the incident was brought to our notice, our police post-in-charge lodged an FIR against two locals and one other person who is yet to be identified. We have booked them for wrongful confinement, voluntarily causing hurt and criminal intimidation," Neeraj Kumar Singh, station house officer, of the Tronica City police station, said.
Meanwhile, an FIR has also been registered by locals Rakesh Mishra and Riyaz against Asif and Iqbal, alleging that they had entered his house around 3 am for thieving. "The second FIR of theft attempt was lodged against the two men. They were caught on suspicion of theft and handed over to the police. We are investigating both allegations," Singh said.
"The cash allegedly stolen was not found from their possession but mobiles were recovered," said a police officer.
Also read: Shocking! Delhi man asked to change a song at Durga Puja Pandal; what happened next will give you goosebumps