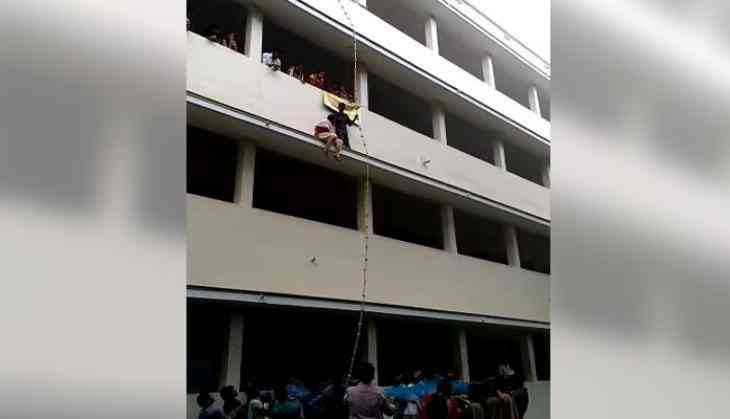 In a shocking incident, a 19-year-old second-year student was pushed to death from a college building of Tamil Nadu's Coimbatore during a disaster preparedness drill on Thursday. The student identified as Lokeshwari was second-year student pursuing a BBA course at Kalai Magal Arts and Science College.
Around 4pm on Thursday, students of the college were being shown how to escape if disaster strikes. According to a video, during a training session Lokeswari perched on the ledge off the second-floor balcony, where the trainer Arumugan, standing next to her was telling her to jump down.
According to an eyewitness, the deceased Lokeswari was reluctant and did not want to jump. The trainer then pushed her and she tumbled down hitting her head on the ledge of the floor below.
However, there were people waiting to catch the girl but unfortunately, after hitting the ledge, she crashed to the ground. Lokeshwari was immediately rushed to a private hospital nearby, which reportedly refused to treat her and referred her to a government hospital where she died.
The cops have sent the body for postmortem and the family of the deceased has been informed.
Arumugan has been taken into custody by the police and a case for causing death due to negligence has been filed against him.
Also read: Know who will be the chief guest of 2019 Republic Day?