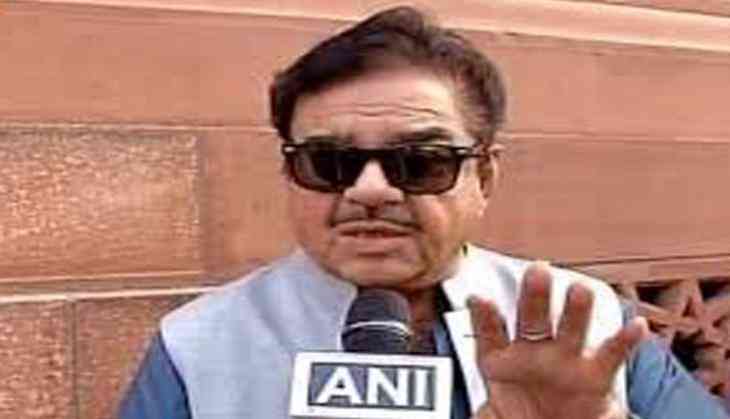 Bharatiya Janata Party (BJP) leader Shatrughan Sinha on 28 September backed his party leader Yashwant Sinha and said that he hit the nail right on the head by showing a mirror on the economic condition of the country in his article.
Yashwant, a former finance minister, hogged the limelight and started trending high on social media on Wednesday after he criticised his own government for sinking economy in an article.
In a series of tweets, Shatrughan said, "Mr. Yashwant Sinha is a true statesman & a tried & tested man of wisdom, who has proven himself as one of the best & most successful Finance Ministers of the country. He has shown the mirror on the economic condition of India and has hit the nail right on the head."
Shatrughan further said that it would be childish to be dismissive of Yashwant's recent observations.
He also said that Yashwant's article should be taken seriously and he should be appreciated for speaking up against the wrong.
"Both Yashwant Sinha and Arun Shourie are extremely learned & experienced intellectuals. Neither has any expectation or interest in being given a post (or Mininstership), especially with the next elections less than 2 years away (sic)," Shatrughan tweeted.
The actor-turned-politician further said he was of the firm opinion that everything that has been written by Yashwant is entirely in the party and national interest.
"Only recently our Prime Minister Narendra Modi has reiterated that the Nation is bigger than the Party.... National interest comes first," he added.
Shatrughan also hit out at the people who are ''trying to sidetrack the issues'' and said a democracy allows everyone to have difference of opinion.
He further expressed hope and wished that soon a remedial action will be taken in the matter.
"Hope, wish & pray that all those people who matter in our party ponder over what has been said by Mr. Yashwant Sinha and remedial action is taken soon, sooner the better. Long live BJP/NDA. Jai Hind! (sic)," he said in a tweet.
In the article, titled 'I need to speak up now', Yashwant took on the Centre over poor economic record and said that demonetisation proved to be an "unmitigated economic disaster" and that the Goods and Services Tax (GST) was a "badly conceived and poorly implemented" havoc.
He introduced the strongly-worded article, saying, "I shall be failing in my national duty if I did not speak up even now against the mess the finance minister has made of the economy."
Yashwant further said that the economy is on a downward spiral and many in the BJP do not dare to speak up against it out of fear.
In his article, Yashwant also took a jibe at raids conducted by Income Tax department, Enforcement Directorate and Central Bureau of Investigation and said that it has become "a new game to instill fear in the minds of people."
Sinha concluded his article by saying, "The prime minister claims that he has seen poverty from close quarters. His finance minister is working over-time to make sure that all Indians also see it from equally close quarters."
Soon after the article surfaced on social media, the Congress and other Opposition parties found fodder to attack the ruling dispensation.
-ANI