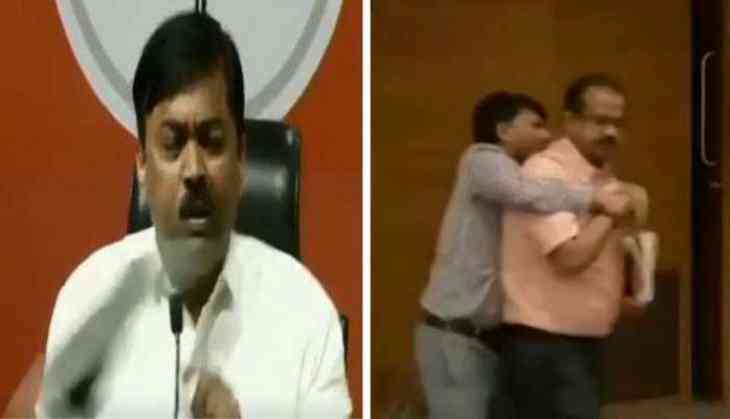 In a press conference of Bhartiya Janata Party (BJP) a shoe was hurled on party spokesperson GLV Narasimha Rao at party headquarters in Delhi on Thursday. The man who hurled the shoe was immediately taken into custody. He was identified as Shakti Bhargava. He is a surgeon by profession and is a resident of Uttar Pradesh's Kanpur city.
According to reportedly, Bhargav who sneaked inside the press conference room, was once raided by Income Tax department official and is facing an investigation attached to Anonymous property and undisclosed income.
#WATCH Delhi: Shoe hurled at BJP MP GVL Narasimha Rao during a press conference at BJP HQs .More details awaited pic.twitter.com/7WKBWbGL3r

— ANI (@ANI) April 18, 2019
As per Aaj Tak reports, Shakti Bhargava had bought 3 bungalows, for which he had paid 11.5 million rupees from his account. Bhargav bought these bungalows on the name of his wife, children and relative.
According to income tax department sources, during the three-day search operation in 2018, cash worth Rs 28 lakh was recovered from the Shakti Bhargava's residence and jewellery worth Rs 50 lakh. During interrogation, Shakti Bhargava could not even confess the sources of income of more than Rs 10 crore.
Apart from this, several other unrecorded companies of Shakti Bhargava were revealed. During the investigation, the Income Tax department came to know about the eight companies related to Bhargava those were not in the Income Tax Department or any other government agency's record.
At the same time, Shakti Bhargava had also filed a petition in the Supreme Court against the Central Government, which court rejected and ordered CBI to conduct investigation against Shakti Bhargava.
Also read: Watch: Man hurls shoe at BJP spokesperson GVL Narasihma Rao during press conference