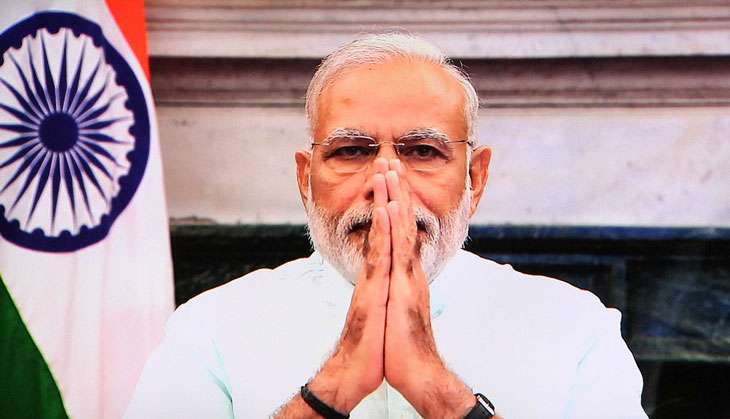 Condemning atrocities against Dalits, Prime Minister Narendra Modi on 2 September accused "self-appointed champions" of the community of giving a political colour to social problems, in order to create tension, even as he asked politicians - including his own party men - to shun irresponsible statements.
Incidents of violence against Dalits or anybody else are "condemnable" and do not behoove a civilised society, he told CNN-News18 in an interview.
PM Modi said he was committed to the welfare of Dalits and other oppressed sections of society but some people were levelling assorted allegations against him as they cannot digest that "Modi is pro-Dalit".
"I want to tell politicians, including my own party men, that there should be no irresponsible statement against any person or community. TV channels may chase you for TRPs, but think about the nation. Those in public life, even if they are social organisations, should think about the country's unity, the society's unity and brotherhood - and not create a situation of despondency. They should be extra cautious," he stressed.
Speaking about the Dalits, PM Modi said:
"If we have a small wound, it hurts even if a paper touches it. But for those who have been suffering for centuries, it hurts them worse, even if an incident is small. So there should be no such incident at all."
Describing it as a "deep-rooted social problem", he said, "We should remove such evil against communities who have suffered for centuries."
Noting that there are many Dalits who are BJP MPs and MLAs in the country, he said:
"Ever since I celebrated the 125th birth anniversary of BR Ambedkar, many people felt that Modi is Ambedkar's follower. They had a problem with it. Those who consider themselves as thekedars could not digest that I am pro-Dalit, that I am mad for them. Yes, I am devoted to the Dalits, the oppressed and the deprived sections, including women... Since I have crossed their (self-appointed champions) path, they are levelling all kinds of allegations against me."
Without naming anybody, PM Modi said, "Those who have poisoned this country in the name of casteism, should stop giving a political colour to a social problem."
The Prime Minister also said that there should never be any violence against Dalits and added that the country had full faith in BJP's "development agenda".
"There is no confusion among people of the country. But those who never wanted our government formed, those who never wanted the previous government to go, their problems are still going on. The issue of development is our agenda and it will remain our agenda. It is not a political agenda. It is my conviction. If a country wants to get rid of poverty, then there needs to be development. We need to empower poor people of the country," PM Modi said.
-PTI