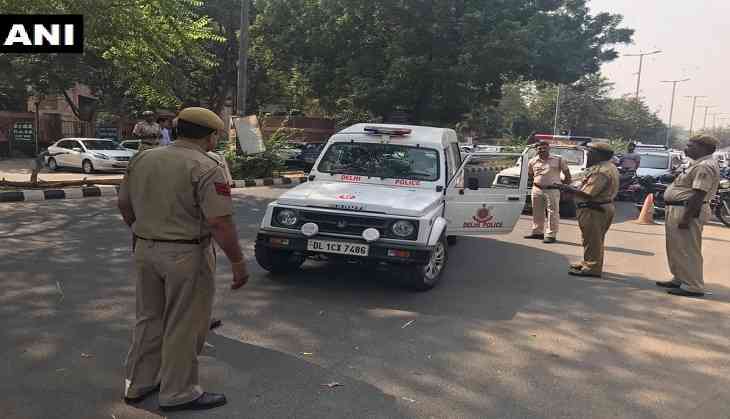 Delhi police at CBI headquarters
The security at CBI headquarters has been increased today due to the tension surfacing after the alleged snooping case which was being done outside director Alok Verma's house.
The Congress party has announced today that it will hold a nationwide protest outside the offices of CBI in connection with the bribery scandal that has hit the premier investigating agency.
In the wake of the unprecedented event, the CBI had booked its special director Rakesh Asthana in an FIR lodged against him in an alleged Moin Qureshi bribery scandal, where Asthana was made an accused.
Congress leader Mallikarjun Kharge has written a letter to the Prime Minister stating that the CBI director cannot be touched until the selection committee is taken in confidence. He said, "It is true that CVC has the right to supervise but he doesn't have the right to transfer or remove the director. Section 4(A) and 4(B) clearly state how committee constitutes or transfers director. They didn't even consult us as a courtesy and took this decision overnight. Perhaps, they couldn't sleep."
Senior Congress leader Abhishek Manu Singhvi also attacked the government on the issue of snooping happening outside the house of Alok Verma and said that "Today morning, an attempt was made by this government to drag Inteligence into this mess. It has already dragged CBI and CVC into its dirty tricks. We condemn this."
Congress Party will also stage a protest outside CBI HQ in New Delhi tomorrow: Randeep Surjewala to ANI https://t.co/IjoB0xwpe2

— ANI (@ANI) October 25, 2018
BJP leader and MP Subramanian Swamy expressed his apprehension in the matter concerning the CBI vs CBI debate, and said, ""A gang of four persons is working against PM Modi. Our party's image is being hurt. Nirav Modi, Choksi and Mallya escaped. How can we fight against corruption if this continues? I am still supporter of PM. He is still the best. But his aides are working against him," he told CNN-News18.
Also read: Watch: 4 'suspicious' men held from outside CBI director Alok Verma's house; Delhi police probing the case
Security increased outside #CBI Headquarters in Delhi pic.twitter.com/TXDVxeWZWv

— ANI (@ANI) October 25, 2018