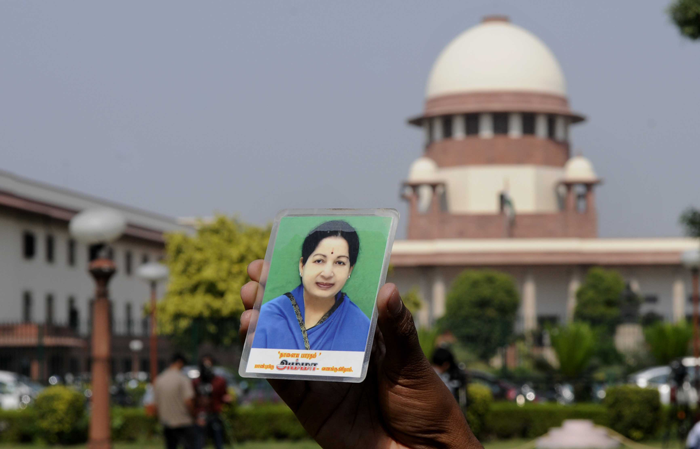 India's apex court has summoned a response from Tamil Nadu Chief Minister J Jayalalithaa and three others named in the disproportionate assets case in appeals filed against them in the Karnataka High Court.The lower court had acquitted them earlier, allowing the All India Anna Dravida Munnetra Kazhagam chief to resume her post as CM.
The Supreme Court has given them eight weeks to file their reply.The Karnataka HC order had on May 11 ruled that the AIADMK chief's conviction by the special court suffered from infirmity and was not sustainable in law. The Karnataka government had, in its appeal against the May 11 verdict, taken the grounds that the state government's prosecuting agency was not made a party before the High Court.
The petition, filed through advocate Joseph Aristotle, had also claimed that the High Court erred in computing the disproportionate assets of the AIADMK leader.The state government in the petition had asked whether the High Court had "erred in law" by according the benefit of doubt to Jayalalithaa in pursuance of a Supreme Court judgement holding that an accused can be acquitted if his or her disproportionate assets was to the extent of 10 per cent.
It also claimed that the High Court has erred in law in overruling the preliminary objections raised by the state government, and added that the accused had filed their appeals against conviction without impleading Karnataka as a party.
The special court had last year held Jayalalithaa guilty of corruption and sentenced her to four years' imprisonment and a fine of Rs 100 crore.
(With inputs from PTI)