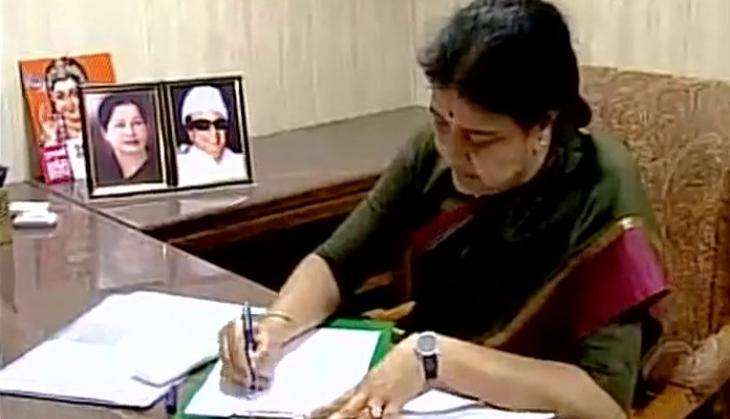 Amid chants of 'Chinnamma Vazhagai' by thousands of supporters, VK Sasikala took charge as AIADMK general secretary, the top party post, on 31 December.
"Amma is always in my heart," an emotionally charged Sasikala said after assuming charge, adding she had been with Jayalalithaa for party meetings for over 33 years and that the
AIADMK will continue to rule for many years. The close aide of late Jayalalithaa first garlanded the statue of party founder MG Ramachandran at the AIADMK headquarters after she arrived in the midst of tight security.
She then proceeded to pay floral tributes to the portrait of Jayalalithaa.
#WATCH: Sasikala Natarajan breaks down while talking about #Jayalalithaa after taking charge as AIADMK General Secretary. pic.twitter.com/DhtSfVWKE4

— ANI (@ANI_news) December 31, 2016
Sasikala formally assumed charge by signing papers after which she proceeded to address the gathering outside. En route to the party office, she was given a rousing welcome by party leaders, functionaries and cadres who had gathered in large numbers.
Party activists had lined up on both sides of the road from the Poes Garden residence to the party headquarters at Royapettah to welcome her.
Sasikala, clad in a light green saree with a pink border, greeted them with folded hands.
Party flags, banners and festoons sporting bright images of Jayalalithaa and Sasikala were put up on roads, all along from Poes garden to Royapettah.
Banners and hoardings hailed Sasikala as Chinnamma everywhere.
AIADMK presidium chairman E Madusudanan, party treasurer and Chief Minister O Panneerselvam, veteran party leader and Lok Sabha deputy speaker M Thambidurai, received Sasikala and accompanied her to the party office.
Party leaders led her to the office of the general secretary where she held discussions with Panneerselvam, who is also party treasurer, Madusudanan, Thambidurai, and others.
The AIADMK headquarters at Royapettah was spruced up for the occasion. A platform was set up near the MGR statue to facilitate Sasikala to pay tributes to the party founder before taking charge. Ministers, party MPs, MLAs also participated.
On December 29, a meeting of AIADMK's top decision making body, the general council, which was attended by all top leaders including Chief Minister O Panneerselvam, took the decision to appoint her as part general secretary by adopting a resolution unanimously.
--PTI