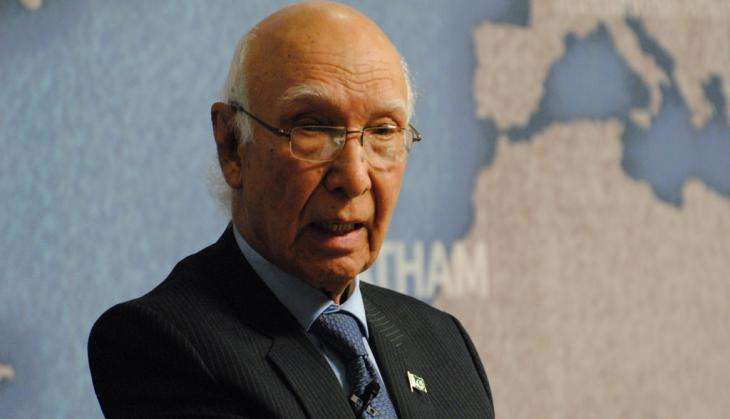 Prime Minister Nawaz Sharif's Adviser on Foreign Affairs, Sartaj Aziz, will travel to India on 4 December for the Heart of Asia Ministerial Conference that began today in Amritsar, Punjab.
The visit comes amid escalating tension between India and Pakistan, triggering speculation as to whether the two countries will engage in bilateral talks on the sidelines of the event even though New Delhi has denied any offer for talks.
Aziz is leading the Pakistani delegation to the meeting of the process that focuses on regional cooperation between Afghanistan and its neighbours to improve connectivity and tackle security threats, reports the Dawn.
The opening Senior Officials Meeting today will discuss and finalise the text for the Sixth Ministerial Conference of the Heart of Asia-Istanbul Process. Today's meeting will also cover all the necessary technical aspects of the declaration for the Sixth Ministerial Conference to be held tomorrow.
Also read:Terror from Pakistan threatens regional stability: India & Afghanistan at Heart of Asia Conference Amritsar
Pakistan, Afghanistan, Azerbaijan, China, India, Iran, Kazakhstan, Kyrgyzstan, Russia, Saudi Arabia, Tajikistan, Turkey, Turkmenistan and the United Arab Emirates are part of the Heart of Asia initiative launched in 2011 for encouraging economic and security cooperation between Afghanistan and its neighbours for dealing with the common problems of terrorism, extremism and poverty.
The process is supported by 17 other predominantly Western countries and 12 international organisations, which are also sending senior representatives.
--ANI