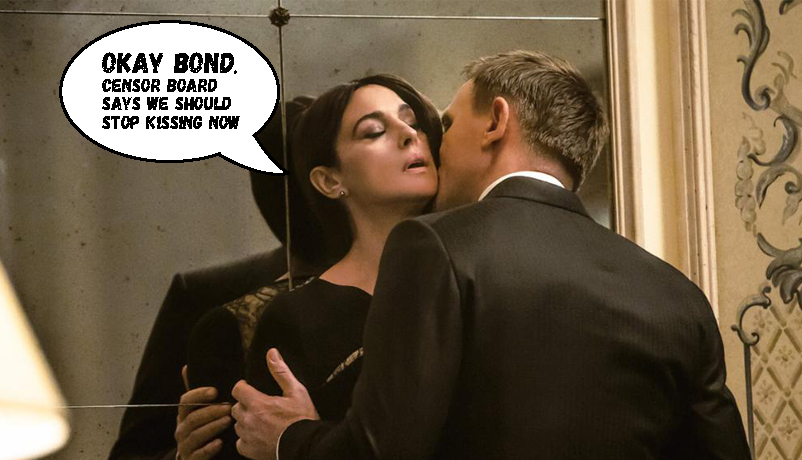 Yes, you heard it right! Censor Board, headed by Pahlaj Nihalani, a self-declared admirer of Prime Minister Modi, has decreed that the new Bond movie Spectre will have shorter kissing scenes.
Rediff.com report quotes a insider who says the Central Board of Film Certification has no problem with kisses. "But the length of the kisses were found to be excessive," the source added.
The Daniel Craig-starrer is releasing this Friday in India, with a U/A certificate. That is after it received two visual cuts and two of the verbal variety.
Not surprisingly, Twitter had a field day with the news, making #CensorBoard and #SanskariJamesBond trend. Check out some of their reactions here:
#SanskariJamesBond Gau-Mootra , shaken not stirred.

- Charles (@Cryptc_Lucidity) November 18, 2015
Weapon of #SanskariJamesBond pic.twitter.com/xzNzdJkimv

- Patakha Chikna (@Madan_Chikna) November 18, 2015
#SanskariJamesBond ties a nimbu-mirchi to his Aston Martin.

- Pseudo-Bajirao (@bizzarebhide) November 18, 2015
Hollywood - James Bond can save the World. Bollywood - save the world from James Bond. #SanskariJamesBond

- Swami (@mohitraj) November 18, 2015
#SanskariJamesBond just after the Ayudha poojaP.S: Mooch styled on @styl_ai pic.twitter.com/zDrkFU2KJ0

- STYL (@styl_ai) November 18, 2015
In #SanskariJamesBond movies, Bond girls will have names like Pooja & Aarti."What's Bond doing?""Pooja & Aarti""Oh!"

- Roflindian 2.0 (@Roflindian) November 18, 2015
The name's Bond, James Sitaram Krishnakumar Bond#SanskariJamesBond

- Champ McLovin (@BolshoyBooze) November 18, 2015
censore board
Censor board to come out with their own website for acceptable forms of kissing on the movies. It will be called WikiPDA.

- Ripper (@Ace_Of_Pace) November 18, 2015
I am glad that the Censor Board has cut the kissing scenes in SpectreI would hate to see any man kiss my Monica Belluci

- Atul Khatri (@one_by_two) November 18, 2015
Censor Board is against kissing scenes, waiting for Baba Ramdev to direct movies under Patanjali Ayurvedic films.

- EngiNerd. (@mainbhiengineer) November 18, 2015
No one knows women better than our Censor Board. They know for exactly how long James Bond has to kiss Monica Bellucci to satisfy her.

- Shirish Kunder (@ShirishKunder) November 18, 2015
Censor board to cut kissing scenes? Hate Story 3 will be released in MP3 format.

- Anurag Verma (@kitAnurag) November 18, 2015
Censor board put the Ma in cinema.. Behaving like our mothers to control what we see

- DaatanchiTaai (@runjhunmehrotra) November 18, 2015
Censor Board is clear.Make in India? Good good.Make out in India? NEVER.

- Ramesh Srivats (@rameshsrivats) November 18, 2015
Bond franchise to create an exclusive Bond movie suitable for passing by Indian Censor Board. Alok Nath to play the role of James Bond.

- Roflindian 2.0 (@Roflindian) November 18, 2015
\
Censor board to ban "Long Kisses" in Bond movie. How long is looonng? 5 seconds? 10 seconds? 1 minute? Loonies!

- Vande Mataram (@UnSubtleDesi) November 18, 2015
Exclusive image of Censor Board Chairman expressing shock over anti Indian Khajuraho sculptures. pic.twitter.com/mU743xzrfq

- Roflindian 2.0 (@Roflindian) November 18, 2015
Censor Board approved kiss for James Bond pic.twitter.com/ch6f5Pd9ZP

- Trendulkar (@Trendulkar) November 18, 2015
My biggest worry over this "Censor Board" decision is what #MonicaBellucci is going to think about Indian men.

- Rajan Lodha (@RajanLodha) November 18, 2015
Censor Board will only pass the James Bond movie uncut, if it is directed by Sooraj Barjatya.

- Nitin Sinha (@NsNitinsinha) November 18, 2015