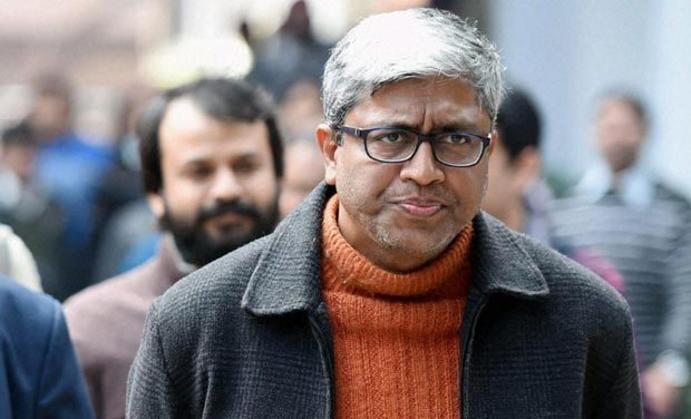 The Congress today alleged that a 'shameful' Aam Aadmi Party (AAP) now stands exposed post the arrest of ex-minister Sandeep Kumar in the sex CD case and wondered whether Delhi Chief Minister Arvind Kejriwal would now initiate action against his party colleague Ashutosh over the comparison of Mahatma Gandhi and Jawaharlal Nehru with the tainted leader.
All India Mahila Congress president Shobha Oza said this is very shameful that real face of the AAP, which used to talk about moral values, is coming in front of everyone.
"But it is more shameful that a senior leader of this party Ashutosh while defending Sandeep Kumar humiliated the father of nation. Kejriwal must answer that what action he is going to taking against him," said Oza.
Bharatiya Janata Party ( BJP) leader RP Singh while describing the AAP leader as 'opportunists' also demanded action against Ashutosh.
"When one will include the people with pervert mindset in the Cabinet then these things will happen. Kejriwal needs to answer everyone. The incident shows this is a gang of opportunists, who have come together to use power for their personal objectives whether it is sexual desire or corruption," he said.
Defending his sacked colleague, Ashutosh had earlier in a blog said, "Indian history is full of examples of our leaders and heroes who had lived with their desires beyond social boundaries."
Ashutosh also went on to question the intentions of some television news channels that aired the footage of the alleged sex tape. He also pondered why India, as a country, never questioned "its leaders about what they do or have done in their private moments".
The AAP, however, later distanced itself from Ashutosh's views while describing his comments to be personal.
"In AAP, there is zero tolerance on any charge about character, corruption and crime. If there are such charges against me, similar action will be taken, as has been done in case of Kumar," said Deputy Chief Minister Manish Sisodia.
The Delhi Police on 3 September registered an FIR against Kumar after which he was arrested late in the evening. The action came after the woman, who featured in the sex CD, turned up at the Sultanpuri Police Station and accused the ex-AAP minister of raping her.
The woman in her complaint said that she had approached Kumar for a ration card and was trapped.
Claiming that the incident took place 11 months back, the woman alleged that he took her to a place, which she can't recall, gave her a drink laced with sedatives and raped her.
The lady also said that she was unaware that she was being filmed.
-ANI