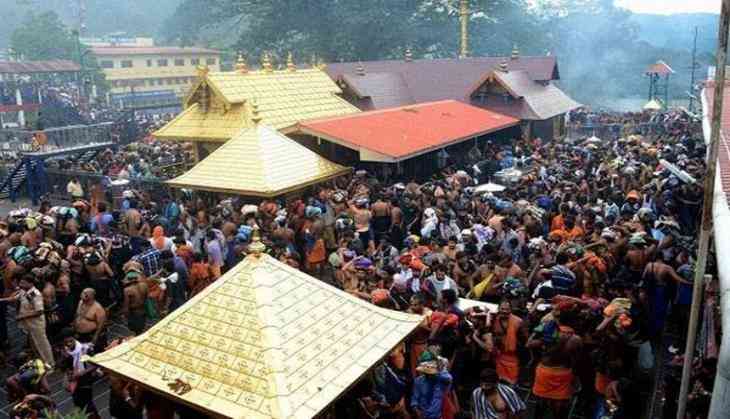 The Sabarimala temple fiasco is courting controversy with every time it gets opened up, and now the temple authorities have decided to open the gates on November 5 but the protesters are again gearing up for a total ban on entry of women.
After the Supreme Court lifted the decades old custom of not allowing women to enter the premises of Lord Ayyappa, the locals of several districts in Kerala held a violent protest against the verdict. Every one demanded that the Kerala government should file a review petition in the case but the stand of the Kerala administration was clear.
The Pinarayi Vijayan led CPI(M) government had said that they will respect the order of the court and abide by it, any law and order situation will be dealt accordingly. Even after heavy police deployment, none of the women could enter the premises, journalists and activists were apprehended by the protester and even attacked in some cases. A woman journalist from the New York Times was not allowed and attacked as well.
As the gates for the temple will be opened on 5th November, the district collector has decided to impose Section 144 in Sannidhanam, Pamba, Nilakkal, and Elavunkal from November 4-6.
And to avoid any law and order situation, the police presence will also be increased. Sensing the situation, Amit Shah led BJP jumped into the temple politics with declaring full support to the protesters who were arrested in the cause. The BJP has little or almost no presence in the Left bastion Kerala and are trying to consolidate a momentum for themselves.
Also read: Karnataka by-election: Litmus test for the JDS-Congress alliance in today's poll on 3 Lok Sabha and 2 Assembly
#Kerala: Section 144 to be imposed in Sannidhanam, Pamba, Nilakkal and Elavunkal from 4th to 6th November. #SabarimalaTemple to open for special prayers on 5th November. pic.twitter.com/08m3wCxabj

— ANI (@ANI) November 3, 2018