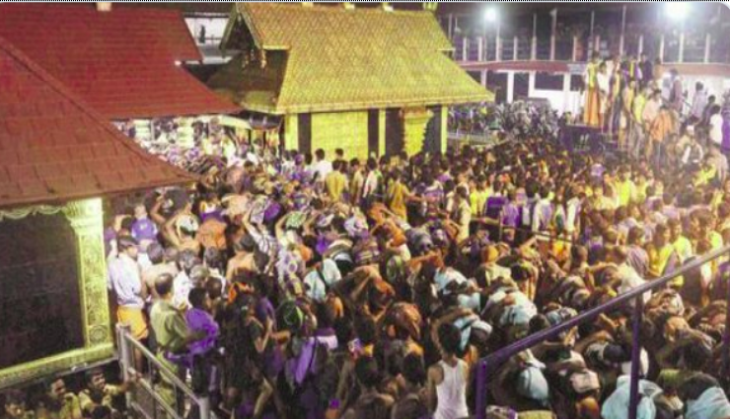 Sabarimala shrine protest has not finished yet. On Sunday night, the fresh protest was broke out at the shrine where hundreds of devotees protested against the restrictions of Police.
On Sunday, the protest took place in Nadapanthal area of Sannidhanam and police have taken dozens of protestors in the custody.
As per the previous incidents and protests by the devotees at the hill-top shrine, police had imposed the strict restrictions on devotees at Sannidhanam.
Due to the protests by devotees, police were not allowed them to enter the temple during the night.
See how people on social media reacted on this:
You understand the sentiment #SaveSabarimala #Sabarimala #SaveSabarimalai #SabarimalaProtests pic.twitter.com/ouAti6nPGa

— Unnikrishnan (@unniszz) November 19, 2018
#Sabarimala Row: 500+ Women Register on Kerala Police Portal pic.twitter.com/JriPzD9w08

— Murali Krishna (@MuralikrishnaE1) November 19, 2018
#BJP activists protest in front of Cliff House at Thiruvananthapuram against arrest of protesters from #Sabarimala

— Rohit Thayyil (@RohitThayyil) November 18, 2018
See how much is the anger in Hindus; nearly 60 dovotees arrested for having namajapa at #Sabarimala sannidhanam late night; thousands came out to protest all over state, march to CM's house & police stations.@SitaramYechury 's party is yet to understand the might of Hindus. pic.twitter.com/ci6zcwtakl

— KVS HARIDAS (@keveeyes) November 19, 2018
80 Arrested for conducting protest at Malikappuram Sabarimalahttps://t.co/S55owIWH9R

— ഏഷ്യാനെറ്റ് വാർത്തകൾ (@NewsAsianet) November 19, 2018
An insincere,uncivilized and barbaric protest,under the auspices of the ruling party of India`s fraction in Kerala is ongoing against the Historical Verdict of SCon Sabarimala issue,in the name of Bhakthas;Please,PM,call back them from the unethical movement,from a peaceful state

— Reghunadhan mv (@ReghunadhanM) November 19, 2018
Ayyappa devotees allege that police are escorting activists to the shrine but preventing devotees from visiting it https://t.co/fhaw07YcE3

— OpIndia.com (@OpIndia_com) November 18, 2018
Meanwhile, section 144 had been imposed in the area. Police had asked to disperse after the Harivarasanam but most of them refused.
According to the Pratheesh Kumar, Superintendent of Police, "those who have to offer 'neyyabhishekam' (anointing deity with ghee) can stay back. They can recite prayers also. We are not against it. The police will assist those who want to offer prayers."
Watch Video:
Also read: CBI vs CBI: Director Alok Verma responds to CVC, says, 'Rakesh Asthana, Sushil Modi and PMO worked together to book Lalu Yadav'