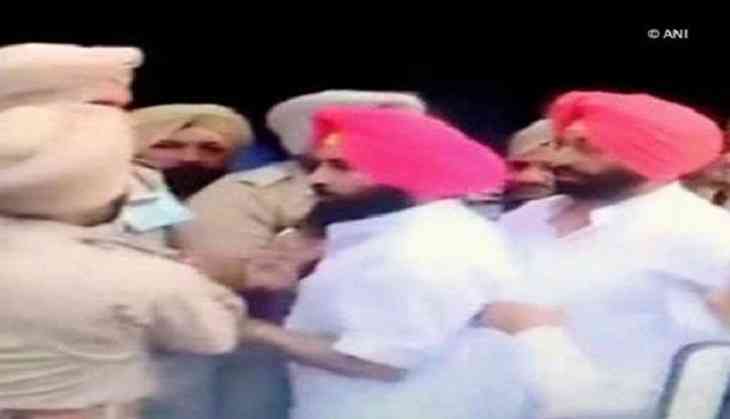 A scuffle broke out between Aam Aadmi Party (AAP) MLA Sukhpal Khaira, Simarjeet Singh Bains and Balwinder Bains of Lok Insaf Party with security officials outside Punjab Assembly on Thursday after they were forcibly removed from the building.
Khaira and Bains brothers were earlier suspended for the entire Assembly session by the Speaker of the house. Khaira was reportedly suspended for uploading a video of the ruckus in the Assembly, while Bains was suspended for throwing papers at the Speaker.
Following this, these MLAs staged a 'dharna' outside the Assembly and alleged that the Captain Amarinder Singh Government in the State was preventing them from entering the House after they raised the issue of mafias.
"Democracy is turning into dictatorship. We were suspended for the session and today they passed the order that we can't enter this building. This building is not Captain Amarinder Singh's; it belongs to the people of Punjab," Simarjeet Singh Bains told ANI.
He said that the Congress Government in the State is not able to accept their faults and is planning and plotting against them.
"I have moved a private bill for the Sutlej Yamuna Link (SYL), since that time they are scared to hold a debate on the same. This is why they have kept us outside. We are not scared of them," he said.
Khaira said that they are taking revenge of personal issue with the people and it is not good for the democracy.
"We presented an FIR where the family of the Speaker has been named for illegal mining. He got so irritated that he suspended us. They even manhandled the women and removed the turban of two of the MLAs," he said.
Meanwhile, four AAP MLAs were suspended by the Speaker from the Assembly after they raised the issue of Khaira and Bains' suspension and moved towards the podium of the Speaker.
AAP MLA Pirmal Singh alleged that his turban was tossed by the marshals and that the Speaker did not hear them out.
-ANI