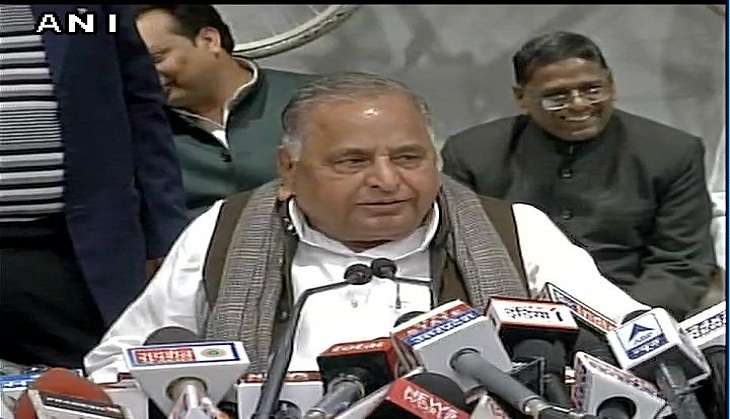 Rajya Sabha chairman Hamid Ansari has received a letter from the party patriarch Mulayam Singh Yadav intimating expulsion of Ram Gopal Yadav from the party.
Meanwhile, Mulayam Singh Yadav on Monday attempted a truce with his son and Uttar Pradesh Chief Minister Akhilesh Yadav while shifting the onus on his cousin Ram Gopal for the entire fiasco.
The former Uttar Pradesh chief minister made the assertion as he approached the Election Commission to stake claim over the Samajwadi Party's symbol 'cycle'.
Mulayam, who yesterday declared that he was still the party boss, also hinted that all issues would be resolved at the earliest.
"There is some problem in the party. One person is behind this feud...sure that issues will be resolved. There is no problem between me and my son (Akhilesh Yadav). Our party symbol is disputed. The Election Commission will decide on the symbol," Mulayam said.
Stating that the ball is now in the court of the Election Commission of India, Mulayam said that it was up to the former to decide which faction of the party would get the symbol 'cycle'.
Meanwhile, Akhilesh's mentor Ram Gopal and senior leader Naresh Agarwal also visited the Election Commission office to stake over the same.
Mulayam, who on 8 January made it clear that he was still the party chief will also urged the Election Commission to check the authenticity and legality of papers submitted by Ram Gopal.
Mulayam also stated on Sunday that Ram Gopal had no right to call the convention on 1 January as he had suspended him from the Samajwadi Party earlier.
In a bid to buttress claim over the 'cycle' symbol, Akhilesh Yadav-led camp represented by Ram Gopal had earlier on Saturday submitted an affidavit mentioning that Samajwadi Party leaders are supporting the Uttar Pradesh Chief Minister.
Ram Gopal said that the relevant documents, brought in "seven cartons with more than 1.5 lakh pages", were submitted to the poll panel to assert Akhilesh's right over the party's name and symbol.
He said that he submitted affidavits of 4,716 delegates of the total 5,731, indicating overwhelming support for Akhilesh.
However, if the Election Commission cannot reach any decision before 17 January, then the party symbol might be frozen and two different symbols would be provide to both factions for contesting the assembly elections.
The assembly elections in the most populous and politically significant state in India will be held in seven phases beginning 11 February.
-ANI