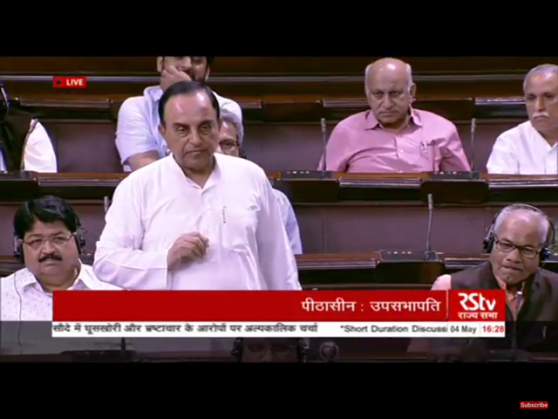 Deputy Chairman of Rajya Sabha, PJ Kurien on 6 May asked Bharatiya Janata Party (BJP) lawmaker Subramanian Swamy to produce the controversial documents he has quoted related to the AgustaWestland case in the upper house of the Parliament.
"Subramanian Swamy has already authenticated all the papers," Mukhtar Abbas Naqvi, MoS for Parliamentary Affairs in RS told ANI.
The decision came after Swamy was challenged about the expunging of his statements on the VVIP chopper deal. Congress leader and Jairam Ramesh asked in the Parliament, "I want to know have the papers been authenticated?"
In response, Kurien said, "I have given the direction... He has to do that otherwise all what he quoted will be deleted. If he is not doing by 6PM today (Friday) all he has quoted will be deleted."
"I have been told that it has been authenticated," ANI quoted VP Singh Badnore - who is chairing Rajya Sabha - as saying.
Reacting to the demand of the former UPA minister, Swamy said the "Congress is not able to tolerate facts". Ramesh hit back saying, "Lying is in Swamy's nature."