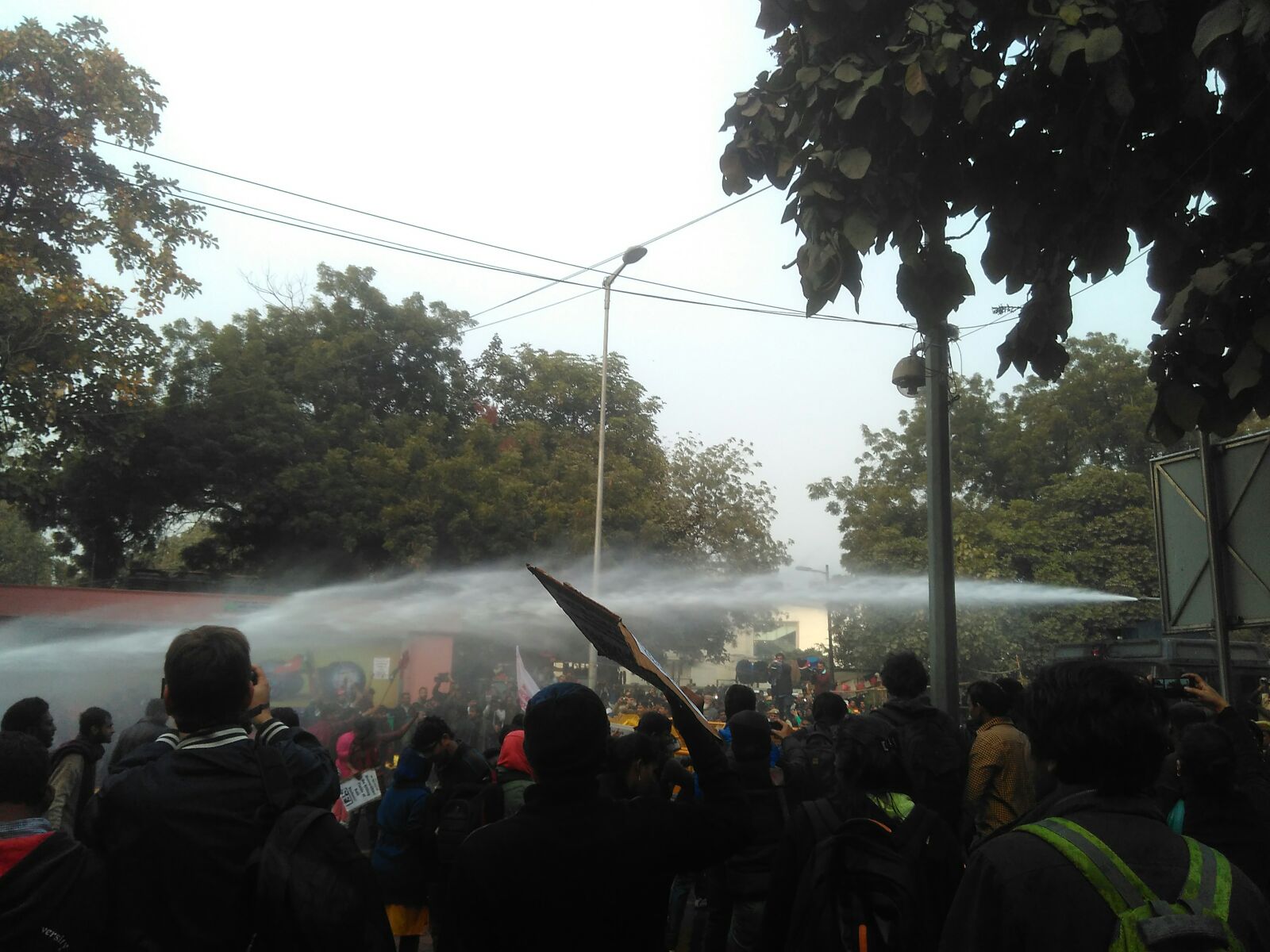 Protests against the death of Dalit scholar Rohith Vemula, who was expelled by the University of Hyderabad, has reached the national capital.
A group from the Students Federation of India (SFI) launched a massive agitation on 18 January outside the HRD Ministry. Security personnel had to use water cannons to disperse the protesters. Students allegedly broke barricades and pelted stones. The protestors were lathicharged, and some were detained.
Dalit student suicide case: Police detain students protesting outside HRD Ministry in Delhi pic.twitter.com/Q57fnvt2dh

- ANI (@ANI_news) January 18, 2016
Meanwhile, an FIR has been lodged against Union Cabinet Minister of State for Labour and Employment Bandaru Dattatrey, who wrote a letter to the HRD Minister Smriti Irani on 17 August. In his letter, Dattatrey had brandedthe students of the University as "anti-national and casteist". He had also urged the HRD minister to take action against the Ambedkar Student Association, of which Vemula was a member.
Dattatrey has issued a statement saying the letter had nothing to do with Vemula's suicide.
Vemula and four other students were expelled from their hostel in University of Hyderabad on 18 December on an August 2015 complaint of ABPV President Sushil Kumar. Kumar had alleged that he was physically assaulted by ASA students following a Facebook post where he called the members of the Ambedkarite organisation "goons". An FIR has also been registered against Kumar and University Vice-Chancellor Professor Appa Rao.
Read More: What killed Hyderabad university Dalit scholar Rohith Vemula?
After being expelled, Vemula wrote a letter to the VC. The letter read: "Please serve 10 mg of sodium Azide to all Dalit students during admission. Supply a nice rope to the rooms of all Dalit students...I request your highness to make preparations for the facility "EUTHANASIA" for students like me. "
Meanwhile, the HRD Ministry has sent a two member team to the University of Hyderabad to look into Vemula's death. Reacting to the incident, Congress has demanded the immediate removal of the VC.
Speaking to ANI, Smriti Irani expressed solidarity with Vemula's family and said that there was no interference from the Ministry in the University's administration.
Don't want to make political statement. My condolences to family of deceased: HRD Minister Smriti Irani to ANI on Dalit student's suicide

- ANI (@ANI_news) January 18, 2016
Two-member fact finding team will submit report on this: HRD Minister Smriti Irani to ANI on Dalit student's suicide pic.twitter.com/hYUMS6PEFw

- ANI (@ANI_news) January 18, 2016