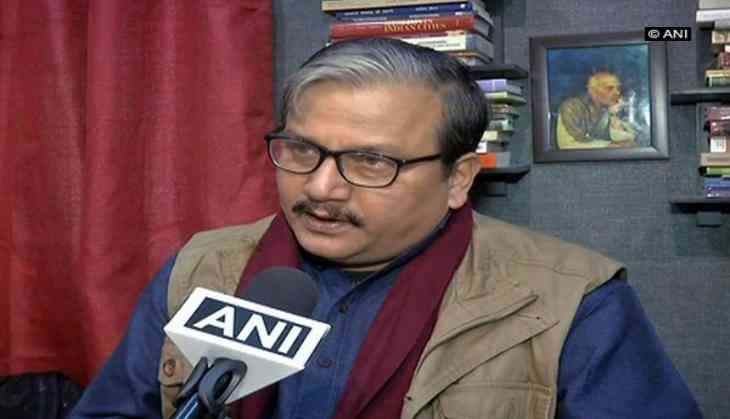 Condemning the controversial quotes allegedly written on the door of a chapel at Delhi University's St Stephen's college, Rashtriya Janata Dal leader Manoj Jha on Sunday accused the Prime Minister Narendra Modi-led government of disturbing peace at an educational institution.
"I was also a teacher here and in my University, these things did not happen. I think that after the JNU (Jawaharlal Nehru University), JU (Jadavpur University), AMU (Aligarh Muslim University), and others, they (BJP) have now targeted the DU," Jha told ANI.
Alleging Prime Minister Modi of keeping silence on key issues, he said, "It's been proved that you are completely silent on fundamental questions, your entire party has no answers on matters related to farmers and labourers, employment, etc, then you get things like 'Mandir Yahi Banega' (The temple will be built right here) written on the chapels of universities."
Continuining his attack, Jha said, "You want to squash institutions of higher learning, is this the model of 'Sabka Saath, Sabka Vikaas'? If it is, acknowledge it, if it isn't then deal with these miscreants in the strictest ways."
In the meantime, Bharatiya Janata Party (BJP) leader Subramanian Swamy urged the authorities to identify and apprehend the one who is responsible.
"Authorities must find out who had done this, otherwise it will not be possible for us to identify the culprit because it is a Christian dominant institution."
Claiming that the DU college was full of Naxalites he said, "It must be some mischief maker, maybe there are Naxalites because, in St Stephens, there are a lot of Naxalites."
On May 5, controversial quotes were reportedly found written on a door of a chapel at St Stephen's college.
While on the door of the chapel were inscribed the words 'Mandir Yahi Banega', an 'Om' symbol was found along with the words 'I'm going to hell' on the cross behind the chapel.
(ANI)