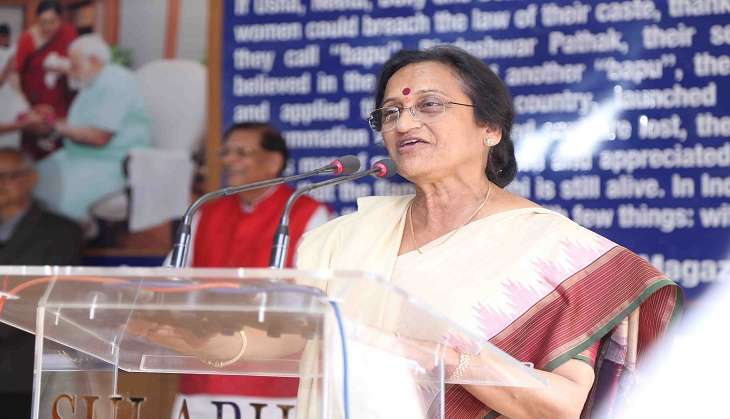 In a major blow to the Congress party ahead of the crucial assembly polls in Uttar Pradesh, the party's former state president Rita Bahuguna Joshi on 20 October joined the Bharatiya Janata Party (BJP).
She was welcomed into the party by BJP national president Amit Shah.
"Today, I resigned from the Congress Party and joined the BJP. It was not an easy decision to take, but I took it for the betterment of the nation and the state after a long consideration. My political career has been of 27 years thus far, of which I spent 24 years with the Congress party and for 10 months with the Samajwadi Party. I worked for the Congress with full dedication and honesty for 24 years," Rita was quoted as saying said.
"I am unhappy with incidents that took place in the past few days. Our country is struggling with terrorism and in this direction the Narendra Modi government took a very decisive decision when he gave a freehand to the India Army to cross the Line of Control (LoC), which included the will to accept any results that would have emerged out of the surgical strike, though the result was good," she said.
"This happened for the first time and the success that we got was not only an achievement for the army but also for the government. When the whole world accepted that we carried out surgical strikes, I didn't like the way the Congress and other parties questioned it. Words like 'Khoon ki dalali' were used that saddened me," Joshi added.
"Prashant Kishor could be a poll manager, but he certainly is not the poll director. But, unfortunately, the entire direction and leadership of the election has been given into his hands. How long we have to walk, when we will stand and sit, all these things were told to us a day before, despite the fact that leaders are grass-roots workers. Nothing could be more unfortunate than handing over the party on contract (to Prashant Kishor)," she said, adding that even senior leaders of the Congress are unable to put across their point in the party.
"Sonia Gandhi understands the organisation; she used to listen to us irrespective of whatever decision she took; but, in the leadership of Rahulji even this is not possible (to get your point across). The people of Uttar Pradesh are not ready to accept his leadership so as the whole country. Even senior Congress leaders are not happy with him.
"However, the fact is that Rahul Gandhi was unable to provide the kind of leadership that a national party like the Congress needs. The people have rejected his leadership," she alleged, adding that only the BJP under the leadership of Prime Minister Narendra Modi could bring about development in Uttar Pradesh.
The daughter of Hemwati Nandan Bahuguna, former chief minister of Uttar Pradesh, Joshi served as the UP Congress president from 2007-12.
--ANI