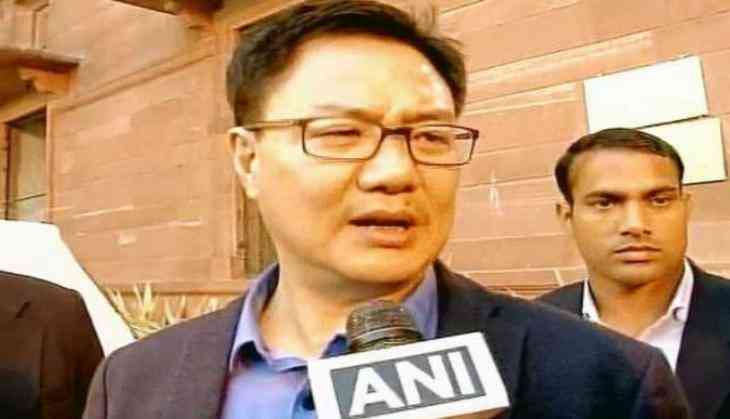 Union Minister of State for Home Affairs Kiren Rijiju on 18 July targeted the 'intolerance brigade' over the Madhur Bhandarkar directed film 'Indu Sarkar' row.
Bhandarkar has cancelled his promotional events in Nagpur and Pune over protests by local Congress workers.
After the protests, Bhandarkar asked Congress Vice President Rahul Gandhi if he approved of hooliganism by his party workers. "Can I have my Freedom of Expression?" he had tweeted.
Talking to reporters here, Rijiju took a jibe at the 'intolerance brigade' and alleged that now it is silent when the Congress workers are showing intolerance over 'Indu Sarkar'.
"The case has not come directly to us but what has been reported is that Madhur Bhandarkar has started process of promotion of his film 'Indu Sarkar' and the Congress workers are not allowing him to go ahead with his programme. There were some people in the country who were talking about 'intolerance' and now the Congress workers are doing such things so the Congress party must look into this matter," Rijiju said.
The minister also questioned where were those people now who talked about freedom of expression.
The term 'intolerance' started trending in India after Dadri lynching when on 6 October 2015, author Nayantara Sahgal returned her Sahitya Akademi award in protest of the growing intolerance in the country. Later, Ashok Vajpeyi and Rahman Abbas also returned their awards. The Congress party had also jumped on the intolerance bandwagon to browbeat Narendra Modi government.
One Mohd. Akhlaq was murdered by a mob in Dadri on the night of September 28, 2015 over the suspicion of stealing and slaughtering a stolen cow calf,
Congress workers are protesting against Indu Sarkar, which is about the Emergency and is believed to have characters similar to former prime minister Indira Gandhi and her son Sanjay Gandhi.
The 'Emergency' refers to a 21-month period from 1975 to 1977 when Prime Minister Indira Gandhi had a state of emergency declared across India.
For much of the Emergency, most of Gandhi's political opponents were imprisoned and the press was censored. Several other human rights violations were reported during Emergency, including a forced mass-sterilisation campaign spearheaded by Sanjay Gandhi.
-ANI