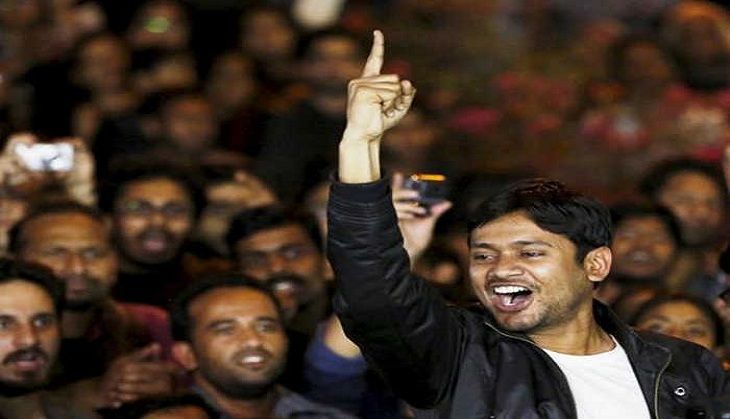 Ever since the JNU row, the varsity's Students Union president Kanhaiya Kumar has been at the receiving end of a barrage of criticism from right wingers. Bearing the stamp of being an 'anti-national', Kanhaiya Kumar was attacked with shoes earlier this month, while addressing a public meet at Dhanwate College in Nagpur.
Also Read:Kanhaiya Kumar attacked with shoes while addressing Nagpur public meet
The latest to join the bandwagon of those slamming Kanhaiya Kumar's alleged 'anti-national' tendencies is the Veer Sena, a little-known right wing Hindu organisation. The Veer Sena is among the Hindutva parties who have joined ranks to protest against letting Kanhaiya step foot in Mumbai, stating the presence of his 'anti-national' self would be detrimental to the 'city's atmosphere'.
But while the Veer Sena is clearly not too fond of Kanhaiya, it would appear that the right-wing Hindu organisation also doubts his credentials as a doctorate student.
According to a report in The Hindu, Veer Sena member Niranjan Pal has raised a rather bizarre concern about the JNUSU president.
"We know that he (Kanhaiya Kumar) is pursuing his PhD from JNU and he is threatening to break the nation to pieces. How can a person like him serve the patients who will approach him after he becomes a doctor?" Pal wanted to know.
It is impossible to refrain oneself from chuckling as you realise that these agents of patriotism, who are dedicated to the upholding the nation's health, have themselves convinced that a having the Dr. prefix ahead of your name can only imply that you are a student of medicine.
The extent of ignorance is highlighted by the fact that when prompted that Kanhaiya Kumar is actually a student of Literature and not of medicine, "So? He will become a doctor anyway and patients will approach him," is the response it elicited.