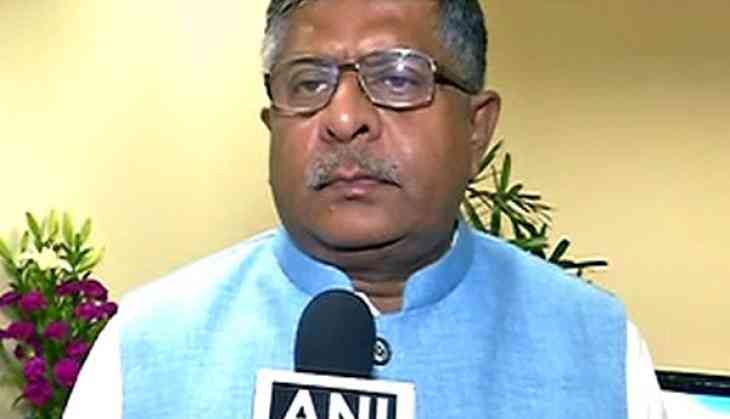 Backing Major Nitin Leetul Gogoi, who triggered controversy for using a Kashmiri man as 'human shield' Union Minister Ravi Shankar Prasad on 24 may said that people who are castigating the army officer are adopting double standards.
Asserting that no one condemned the death of Lieutenant Umar Fayaz, Prasad said that Major Gogoi was doing his duty and saved lives of many polling officers who were under death threat.
"This brave army officer saved the lives of many polling officers who were under eminent threat of being killed. But for all those who are asking questions about this army officer. I have to ask a counter question, Why they were silent when a Kashmiri army officer Lt. Fayaz was killed in Pulwama, did anyone of these people condemn it? This is not fair, these are double standards," said Prasad.
Major Leetul Gogoi, who tied up a civilian, Farooq Ahmad Dar, on his jeep's bonnet as a shield to prevent mobs from attacking Election Commission staff in Jammu and Kashmir's Budgam last month yesterday said he had caught Dar on realising he was instigating a group of stone-pelters and could have been their leader.
Defending his action, the army major told the media, "I have not fired a bullet, not beaten up anyone... there was no collateral damage. From my point of view, I have not violated anything... We are here to help the people. The army is here for common people, against those with weapons and those who fight against nation."
The officer was awarded by Chief of Army Staff's ( COAS) Commendation Card for his sustained distinguished service in counter-insurgency operations in Jammu and Kashmir.
Major Gogoi was in the spotlight after a video shot during the April 9 Srinagar Lok Sabha by-polls, posted on the social media, showed a man tied on the bonnet of an Army jeep in Jammu and Kashmir's Budgam.
-ANI