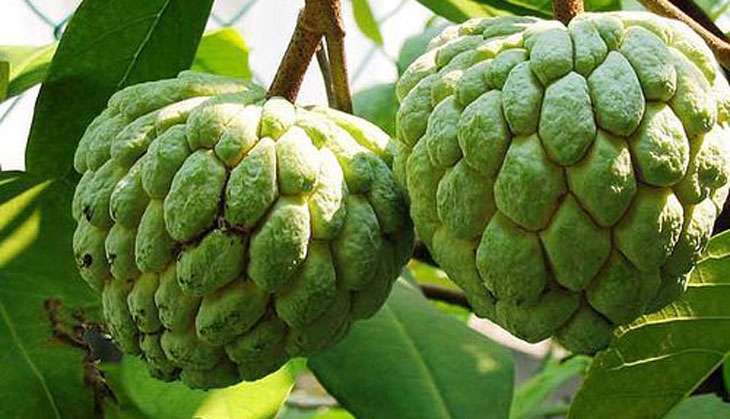 A new variety of custard apple, bigger in size than the existing ones in Rajasthan, is being studied by the agriculture department for cultivating it on a larger scale in the desert state.
The department has sent the samples of the fruit plant to the Rajasthan Agriculture Research Institute for an in-depth study to find prospects of its successful cultivation, an official said.
Known as 'Saraswati Sevan', the variety at present is being grown in Nagpur and is pulpier with smaller seeds. "The outer layer of the fruit is much thinner in comparison to the other varieties found in Rajasthan which have a thick outer layer and fragile, causing breakage on ripening," Director, Horticulture, Vijaypal Singh said.
"We have sent the samples of 'Saraswati Sevan' for study to RARI. We have also got some sample saplings for this variety from Maharashtra and it will be grown in the Kota district," he said.
To start with, the officer said, these sample plants are being grown in the Nanta area of Kota district. He said Chief Minister Vasaundhara Raje had last year spotted the variety in Nagpur and directed the department to start its study.
He said the weight of this new variety of custard apple is between 350 and 400 gms apiece while the usually grown fruit weighs around 150 to 300 grams.
Custard apple, a rich source of vitamin C and an anti-oxidant, is widely grown in the tribal belt of Rajasthan which includes Udaipur, Chittorgarh, Dungarpur, Banswara, Rajsamand and Jhalawar.
He informed that the state is also coming up with a Centre of Excellence for custard apple in Chittorgarh. In 2015-16, custard apple was sown on 524.44 hectares and the entire produce was 6,121 metric tonnes. Custard apple is grown best in dry and hot climate, requires light soil along the slope of hills.
The plants are raised from seeds and bear fruit in about 3-4 years. The major climatic factors limiting commercial production of custard apples are temperature and humidity. Warm, well-protected, frost-free sites in districts receiving a predominantly summer rainfall are most suitable for the fruit.
--PTI