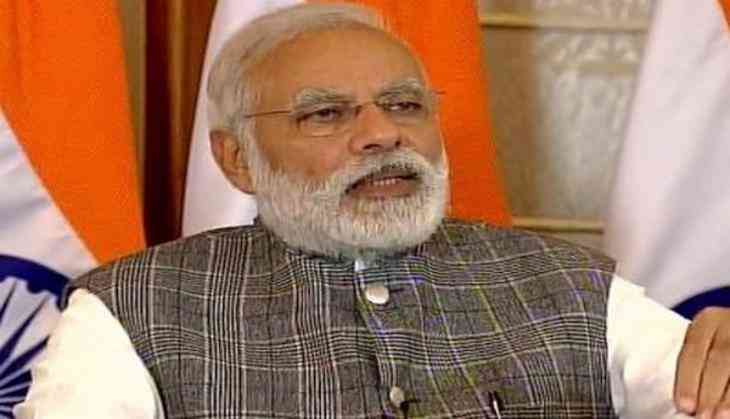 Prime Minister Narendra Modi on 29 August took on the former government for taking more than 10 years in constructing the hanging bridge over the Chambal river in Kota.
Addressing a rally in Udaipur, Prime Minister Modi said, "The construction work of the Kota bridge was shut down, but when you take decisions with courage you get results."
He further asserted that "we are here to work and deliver results and therefore, we are inaugurating infrastructure projects worth Rs. 15,000 crore at once."
Remembering former prime minister Atal Bihari Vajpayee, who initiated plans for the construction of the golden quadrilateral connecting India, he averred that better roads would help our farmers immensely.
"To take India to newer heights, the role of infrastructure, railways, and roads is very important," he mentioned.
Stating that tourism is a field, which can generate multiple employment opportunities with minimum investment, Prime Minister Modi noted that these new projects will help boost tourism in the state.
He also assured full support to the people of Rajasthan, who are facing strife, due to the recent floods.
Earlier in the day, Prime Minister inaugurated and laid the foundation stone of several important highway projects here.
The projects inaugurated are: six-lane Cable Stayed Bridge across river Chambal at Kota, four laning of Gomati Chauraha - Udaipur section of NH-8 and four-laning of the Rajsamand-Bhilwara section of NH-758.
Prime Minister Modi was received by Governor Kalyan Singh and Chief Minister Vasundhara Raje even as he arrived in Rajasthan's Udaipur.
Prime Minister Modi will later visit Udaipur's Pratap Gaurav Kendra. The Kendra provides information through various exhibits, about the life, valour and achievements of famous King of the erstwhile kingdom of Mewar, Maharana Pratap.
-ANI