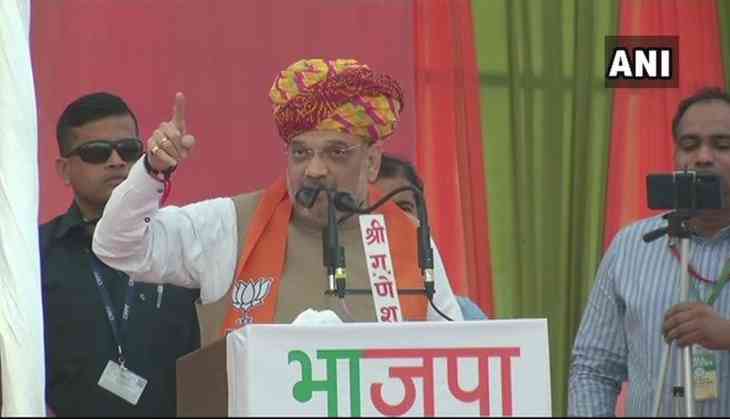 The Rajasthan Assembly election is approaching and the rally of BJP president Amit Shah has garnered many applause as he regarded Congress party to be lost within the map of India.
Rajasthan will vote on December 7 and issues like unemployment, inflation, water scarcity, mob lynching and farmer distress is plaguing the state but the daily dose of Ram temple, India and Pakistan and the Hindu-Muslim debate are on in the prime time news channel and the political parties are busy explaining their manifestos.
Rajasthan has traditionally voted out the incumbent government from the power every 5 years and it is a fact which has prevailed since 1985. CM Vasundhara Raje has been facing flak and opposition form her own party insiders and the groups are certainly divided in the clan BJP as well, just like the Congress' Ashok Gehlot and Sachin Pilot.
Amit Shah has said that "Today Congress party has become a party which needs to be seen with a telescope on the map of India. Congress party is not a democratic party, it is just a private limited firm belonging to Gandhi-Nehru family."
Earlier, Human Resource and Development Minister Prakash Javadekar said at the Panchayat Aajtak, "No, this election will prove this trend wrong. Politics has changed quite a lot in the last four years."
Prakash added that "It is a myth that Rajasthan does not elect the ruling party to power. Bhairon Singh Shekhawat was the chief minister for two consecutive terms in Rajasthan," as reported by the India Today.
Also read: 'Who is Gopal Chawla?' Asks Navjot Singh Sidhu on controvery over photo with pro-Khalistan activist
BJP President Amit Shah in Kotputli: Today Congress party has become a party which needs to be seen with a telescope on the map of India. Congress party is not a democratic party, it is just a private limited firm belonging to Gandhi-Nehru family. #Rajasthan pic.twitter.com/GtG4KODcup

— ANI (@ANI) November 29, 2018