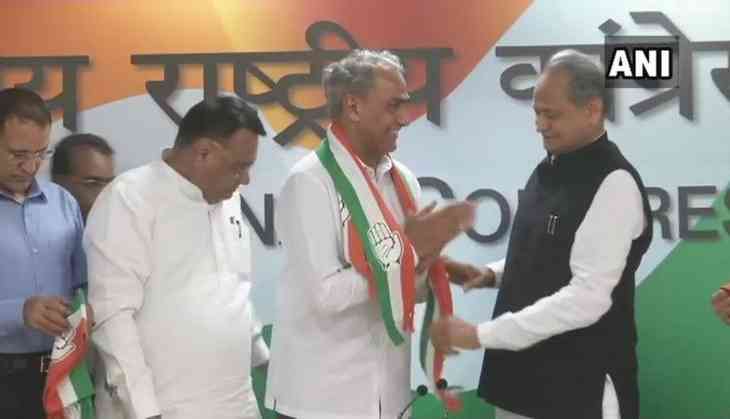 Harish Meena and Ashok Gehlot
The Rajasthan Assembly election is approaching and the sitting BJP MP Harish Meena has switched sides and has joined the Congress party, in presence of Ashok Gehlot here in Delhi.
The Rajasthan Assembly has been loyal in reversing the government every five years and as per the logic, the history is on the Congress' side.
The BJP, under Vasundhara Raje, has been facing a high anti-incumbency in the state and some right wing groups are also protesting against the Raje's government since a log period of time.
BJP's Harish Meena is a member of parliament from Rajasthans Dausa constituency and has been a supporter of the party since a long time. He was an IPS officer and also the Directorate General of Police of Rajasthan, under the Ashok Gehlot government. His brother, Namo Narain Meena, was also an ex-IPS officer, and was a Minister of State (Finance) in the UPA government.
Ashok Gehlot, during the press conference in Delhi, has said that he will be contesting the Rajasthan Assembly election, along with Sachin Pilot.
Former CM Gehlot said, "Both, I and Sachin Pilot will fight the Rajasthan assembly elections."
Sachin Pilot, who was also present in the press conference, agreed with the statement of Ashok Gehlot and denied any rift between the two leaders, as being quoted in the media.
He said, "On Congress president Rahul Gandhi's instruction and on Gehlotji's request, I have decided to contest the assembly elections."
The Congress party in Rajasthan is said to be deeply divided among the two factions, one headed by the former CM Ashok Gehlot and the other by Sachin Pilot. The result of the assembly election will be declared on December 11.
Also read: Telangana Assembly Election 2018: Congress releases 2nd list of 10 candidates for the upcoming polls;
BJP MP from Rajasthan's Dausa Harish Meena has joined the Congress Party in the presence of party leaders Ashok Gehlot and Sachin Pilot, in Delhi pic.twitter.com/aiaePYmNnM

— ANI (@ANI) November 14, 2018
Both, I and Sachin Pilot will fight the Rajasthan assembly elections: Congress leader Ashok Gehlot in Delhi pic.twitter.com/C4uCxDS2ct

— ANI (@ANI) November 14, 2018