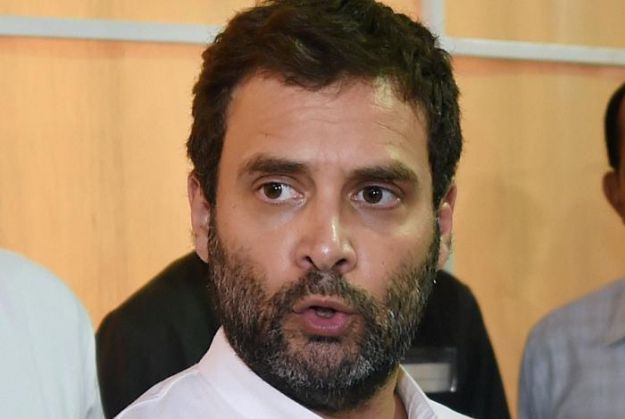 Amid an uproar by non-BJP parties over the arrest of JNU students Union president in a sedition case, Union Minister Ananth Kumar on Saturday said the government will take strict action against "anti-nationals." Reports have also emerged that earlier today, seven more students had been arrested and were questioned at the Parliament Street Police Station and later released.
Congress Vice President Rahul Gandhi visited the JNU campus for a short while today. Ajay Maken, Anand Sharma and CPI(M) head Sitaram Yechury also were present.
However, students were not too happy with Rahul's arrival. They held up black flags and slogans like "Rahul Gandhi go back" were heard.
"The protest at JNU is anti-national and it amounts to betrayal to the country and should be dealt with strictly. Anyone who raises slogans in favour of Afzal Guru and other terrorists, strict action will be initiated against them," Kumar, the Union Minister of Chemicals and Fertilizers, told reporters on the sidelines of an event here.
JNUSU president Kanhaiya Kumar was arrested in a sedition case over an event held at the varsity campus against the hanging of parliament attack convict Afzal Guru, drawing flak from the Left and Congress which dubbed it an "Emergency-like" situation and called it "curbing" students voice.
On the killing of BJP Bihar vice president Visheshwar Ojha yesterday, he said since Nitish Kumar came back to power in alliance with Lalu Prasads RJD, "jungle raj" has returned to the state with a spurt in incidents of murders and kidnapping.
"Only peoples' constant agitation can restore order in Bihar," Kumar said.
Ojha was shot dead by unidentified assailants last evening by unidentified assailants in Bhojpur district, the second murder of a politician in the past 10 days.
"It is very sad that political leaders belonging to BJP and some others are being killed, and people are getting disturbed," the minister said.
On former prime minister Manmohan Singh flaying Narendra Modi for keeping "quiet" over issues like beef controversy and Dadri lynching, he said it was Congress which had lost the confidence of people during the last Lok Sabha elections where it was reduced to only 44 seats.
"The people rejected the Congress-led UPA government for lack of confidence in its previous rule. Therefore, Manmohan Singh should introspect the performance of his government and then comment on our government," Kumar said.
Text by PTI