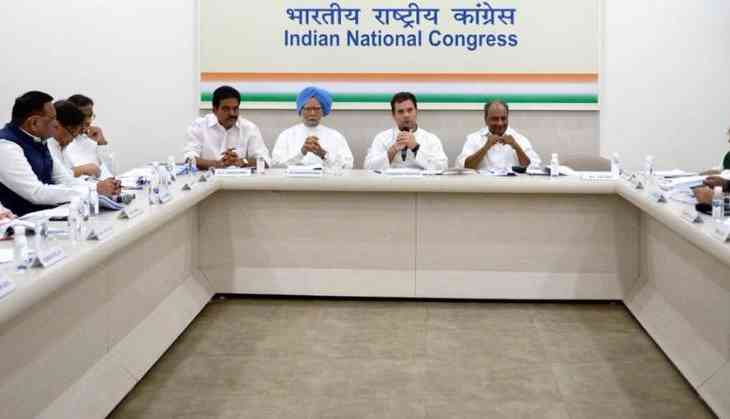 Amid the back and forth over alliance with the Aam Aadmi Party, Congress president Rahul Gandhi has met senior party men and Delhi Congress leaders including Sheila Dikshit, Ajay Maken and P C Chako.
In the meeting of Congress Working Committee being held today, the poll agenda also includes tie-up with AAP and the discussion on poll manifesto for 2019 elections. As per media reports, the meeting which is taking place at the residence of Rahul Gandhi also includes senior functionary like De Manmohan Singh, Priyanka Gandhi etc.
Delhi: Congress President Rahul Gandhi chairs Congress Working Committee (CWC) meeting at party headquarters pic.twitter.com/svZC3f3Usg

— ANI (@ANI) March 25, 2019
PC Chacko, the Delhi Congress in-charge, said about the tie-up with the AAP that, "We might hear something positive on the alliance by Sunday evening. (Congress president) Rahul Gandhi will be meeting some senior leaders and we hope a decision is taken."
Its the former Delhi Congress chief Ajay Maken who has said positive words regarding the alliance with AAP and has also said that even if he doesn't contest the polls, he would be supporting the Aam Aadmi Party.
"I have expressed my support for the alliance and my personal candidature comes after this," Maken said, adding that "There are no talks happening. How can an announcement happen without involving the other party concerned? How can they announce an alliance tomorrow when we are not aware of it?"
Interestingly, the AAP has already announced the list of candidates for the upcoming polls and Delhi has 7 seats to contest upon. Congress has sought 3-3-1 seat sharing, wherein one candidate will be jointly supported by AAP-Congress.
ALso read: Shiv Sena, BJP hold joint rally in Kolhapur, say, 'it's 56-inch chest vs 56 parties in 2019 polls'