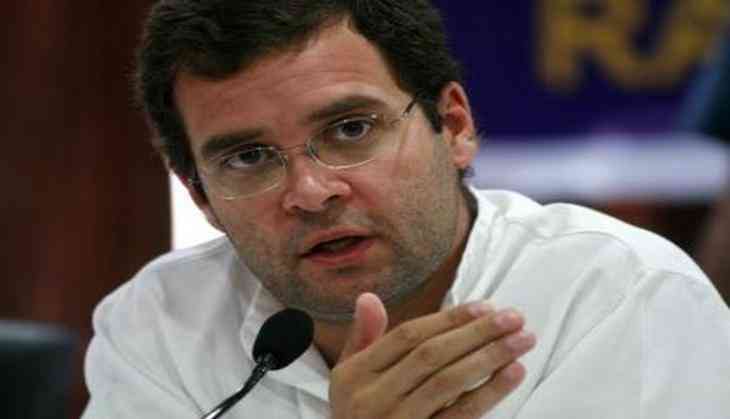 Training guns at the Bharatiya Janata Party (BJP) Government at the Centre and the Rashtriya Swayamsevak Sangh (RSS), Congress vice-president Rahul Gandhi on 17 August said Prime Minister Narendra Modi party's ideological parent RSS follows "a divisive agenda."
Rahul accused the Prime Minister Narendra Modi Government of imposing RSS ideology in every institution of the country, while addressing the gathering at the 'Sanjhi Virasat Bachao' event here.
"There are two ways of looking at the country - some say that this is their country, while others say they belong to the country. And this is the difference between us and the RSS," he said.
"The RSS says that this is their country and we don't belong here. In Gujarat they thrashed the Dalits and said that this is their country and they don't belong here. RSS is aware that with this ideology they cannot win elections that is why they are putting their people in every institution," he added.
Alleging that Prime Minister Modi sells lies to the public, Rahul said the Opposition must fight together to defeat the BJP.
He further said that the RSS wants to change the Indian Constitution.
"In the Constitution, it is written that "one man one vote" and the RSS wants to change this. They want to change the constitution," he said.
While taking a jibe at Prime Minister Modi's Make in India initiative, Gandhi said, "Modi ji gave 'Make In India', but I mainly find things that are 'Made in China'. Truth is that Modi Ji's Make In India has failed."
Rahul also attacked the government over the recent farmer deaths. "Arun Jaitley says that, in the Lok Sabha, waiving farm loans is not this government's policy. No matter how many farmers die, they don't care," he said.
Rahul Gandhi was joined by several other Opposition leaders for the programme.
Veteran JD(U) leader Sharad Yadav has called on the leaders of other opposition parties today in Delhi known as the ' Sanjhi Virasat Bachao' event.
Top leaders of the Congress, the Left, the Samajwadi Party, the Bahujan Samaj Party (BSP), the Trinamool Congress (TMC) and other parties opposed to the BJP are attending the programme which is being seen as Yadav's show of strength against his party chief Nitish Kumar's decision to ally with the BJP.
-ANI