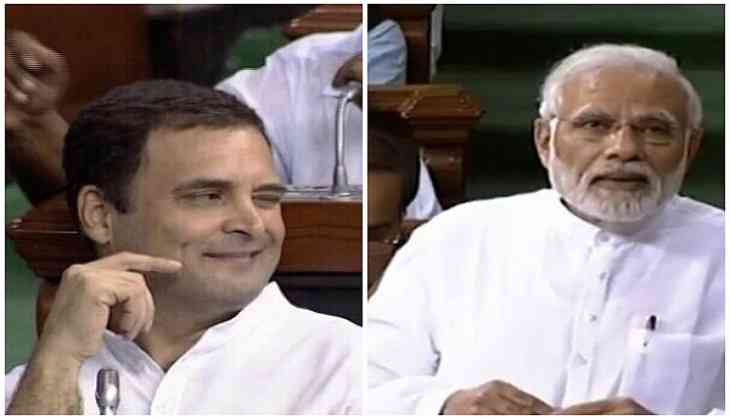 Rahul Gandhi and Narendra Modi
Taking a dig at PM Narendra Modi, the Congress president Rahul Gandhi tweeted saying 'Vanakam Puducherry' and basically imitated PM Modi's stunt.
Rahul Gandhi had tweeted "Vanakam Puducherry! That's NoMo's answer to the struggling middle class. Forget a press conference he can't even string together a polling booth worker's conference. BJP-vetted questions is a superb idea. Consider vetted answers as well."
Earlier this week, PM Modi interacted with the BJP workers in Puducherry and durin the interaction on December 19, a party worker named Nirmal Kumar Jain, has asked the PM Narendra Modi that while the government is busy in collecting the taxes from the middle class, no benefits were being made for the common man and no relief in the Income Tax or its procedural things.
To which, PM Modi had responded in a subtle manner but he was left with no clear response as the fact stated by the BJP worker was on point and the government tends to be on the back foot on this issue.
PM Modi, in response said, "Thank you, Nirmal-ji. You are a trader, so it's normal that you will talk business. I favour taking care of common people and the common people will be taken care of."
Last week, it was the former PM Manmohan Singh who took a dig at the PM Modi for not organizing or attending any press conference.
Dr Manmohan Singh had said, "People say I was a silent Prime Minister. But I wasn't the Prime Minister who was afraid of talking to the press. I met the press regularly, and after every foreign trip I undertook, I gave a press conference."
Also read: 'Sambit Patra removed as BJP spokesperson' post gets viral on social media; know the truth here