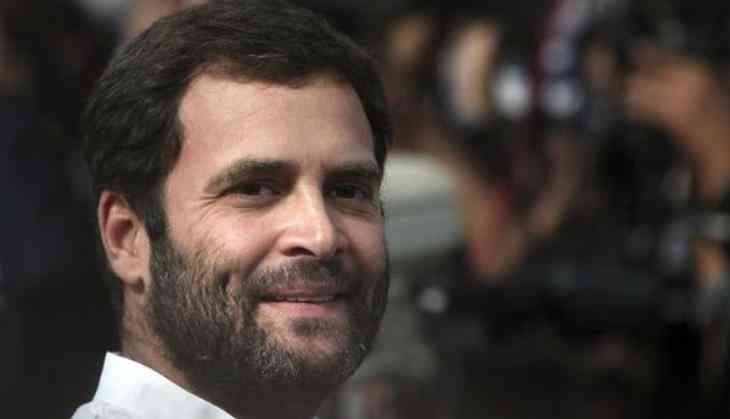 Rahul Gandhi, whose Congress party fumed over his seating arrangement in the sixth row at the Republic Day Parade, today got a front row seat in the Central Hall of Parliament during the President's address to the joint sitting of both Houses.
Gandhi was seen restive during the hour-long maiden address of President Ram Nath Kovind at the joint sitting of the two Houses of Parliament to mark the beginning of the Budget Session. The Congress President was seen talking to his mother Sonia Gandhi and party leader Mallikarjun Kharge.
Sonia Gandhi, the former Congress president, was also seated in the front row alongside BJP patriarch L K Advani, who had former prime minister Manmohan Singh seated on the other side.
Ahead of occupying their seats, Advani greeted Sonia Gandhi. The two were also seen talking after the function, as the Congress leader thumped the desk after the President ended his address.
External Affairs Minister Sushma Swaraj also greeted Sonia Gandhi and so did union minister Ramdas Athawale. I&B minister Smriti Irani also shook hands with Advani, but did not greet Sonia Gandhi.
Among other opposition leaders seated in the front row were Ghulam Nabi Azad, who was seated next to Finance Minister Arun Jaitley, who was on the right side of Prime Minister Narendra Modi sat.
BJP President Amit Shah, who became a member of the Rajya Sabha only recently, also occupied a front seat along with Home Minister Rajnath Singh. Seated along with them were External Affairs Minister Sushma Swaraj and Transport Minister Nitin Gadkari.
While I&B Minister Smriti Irani had a seat earmarked in the front row, Defence Minister Nirmala Sitharaman was seated in the second row behind Shah and Rajnath Singh.
BJP veteran Murli Manohar Joshi got a seat in the third row along with National Conference leader Farooq Abdullah.
Ahead of them in the second row behind Modi and Jaitley, were NCP chief Sharad Pawar and SP leader Mulayam Singh Yadav.
Another highlight of the joint sitting of budget session was President Ram Nath Kovind shaking hands with all those seated in the front row of the Central Hall after completing his address and coming down from the dais. While he shook hands with all the male members, he greeted the women members with folded hands.
After the Presidential procession left the central hall, Rahul Gandhi was seen discussing something with his party MP and lawyer Vivek Tankha for a few minutes. The two were soon joined by CPI's D Raja.
Tankha was also seen having a word with Law Minister Ravi Shankar Prasad. Jaitley was also later seen talking to Congress leader Anand Sharma, raising speculation relating to consultations on between the government and the opposition on the triple talaq bill.
-PTI