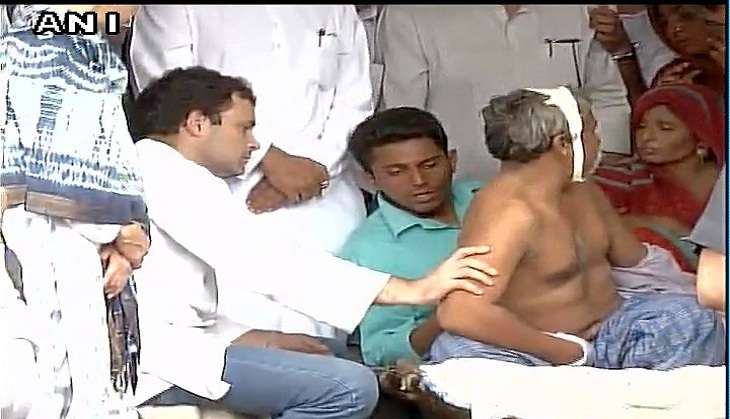 On 21 July, Congress vice president Rahul Gandhi visited Una in Gujarat, where self-appointed gau-rakshaks indiscriminately assaulted Dalit youth for allegedly killing a cow.
All ears for the grievances of the victims, Rahul Gandhi arrived at the Mota Samadhiyala village, accompanied by Gurudash Kamat and Bharat Singh Solanki.
Congress VP Rahul Gandhi meets the family members of victims of Una incident, in Una (Gujarat) pic.twitter.com/9xbfP6ZeO6

— ANI (@ANI_news) July 21, 2016
He spoke to the victims to take stock of the situation and provide them with the requisite relief.
Why would we leave this village? People who hurt us should leave: Victim after meeting Rahul Gandhi #UnaIncident pic.twitter.com/0gkooe83tU

— ANI (@ANI_news) July 21, 2016
The victims opened up to the Gandhi and showed him the extent of the injuries they had sustained in the attack.
Una (Gujarat): Victim of Una violence show Rahul Gandhi his wounds. pic.twitter.com/emGh83I2c1

— ANI (@ANI_news) July 21, 2016
On 11 July, some persons claiming to be Gau rakshaks (cow protectors) thrashed seven Dalit youth in Una, alleging that the latter had killed a cow which they were skinning. The victims claimed they were skinning the cow which had died of natural causes.
Video of the incident went viral, sparking protests. A policeman was killed in mob violence and a Dalit committed suicide as protests spread against last week's incident.
Branding the attack on Dalits a "social evil", Union Home Minister Rajnath Singh condemned the Una incident and urged political parties to unite over the issue.