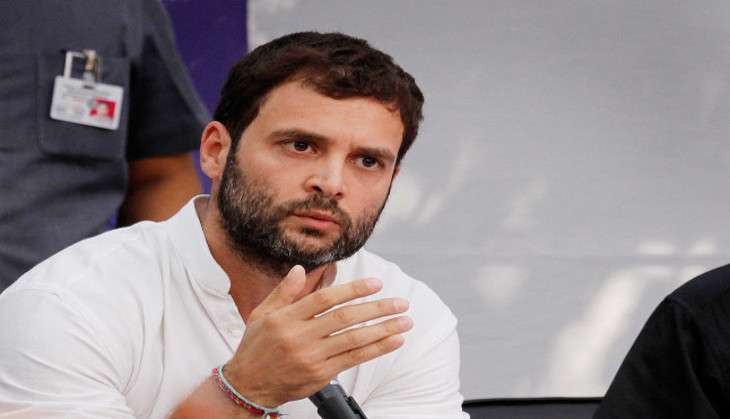 On 29 September, a local court granted relief to Congress Vice President Rahul Gandhi in a criminal defamation case filed against him by a RSS functionary.
Gandhi appeared as accused before the court of the Chief Judicial Magistrate Kamrup and was granted Personal Recognisance (PR) bond as he appeared personally and in deference to his status as a Member of Parliament, his lawyer Anshuman Bora told reporters outside the high security Court.
"We had filed a bail application for him but as Rahul Gandhi appeared in person the court allowed him to go on PR bond. The next date of hearing has been fixed for November 5", Bora said.
The complainant was Bibhag Chanchalak of RSS, Anjan Bora's counsel Bijon Mahajan told journalists, "We did not oppose the bail application as per the complainant's advice".
Gandhi has to be present personally again on November 5 when the court will explain to him his offence.
The complainant had filed a criminal defamation case against Gandhi that he had brought down the image of the RSS by saying he was not allowed by RSS members to enter Barpeta Satra, a 16th century Vaishnavite monastery, in Assam on December 12, 2015.
CJM Sanjoy Hazarika in his August 6 order had stated, ."The statement of Rahul Gandhi so published in dailies as well as in media appears to be defamatory in nature
"And, therefore, the complainant prima facie fulfils the ingredients of Section 499 IPC. And accordingly I find sufficient material to proceed against Rahul Gandhi to face trial under Section 500 IPC." Section 500 of the IPC contains quantum of punishment which may extend to two years or with fine or with both.
Bora's counsel Bijon Mahajan on that day had stated before the court that what Gandhi had said was a "blatant lie" before the media as he had never visited Barpeta Satra in Assam on December 12, 2015 as was apparent from perusal of evidence of the witnesses.
The deposition of the witnesses showed that there were no RSS people among the crowd, including the Bura Satra Adhika (head of the monastery), waiting to greet Gandhi on that particular time and date, Mahajan who is also BJP Assam unit spokesman. had stated.
The crowd was very upset that Gandhi never visited the Satra on that day, Mahajan told the court.
Bora in his case claimed that Gandhi was supposed to go to the Satra on December 12, 2015 but he did not go there and instead had taken part in a padayatra.
Two days later on December 14 Gandhi had told a press conference in Delhi that he tried to enter the Satra but was instead prevented from doing so by its elected members and RSS supporters, Bora stated in his case.
Claiming the Congress leader's assertion as a "blatant lie", Anjan Bora filed a criminal defamation case No.
CR559/2016 in the CJM's Court stating that on December 12, 2015 a lot of people, women and elected leaders of the Satra were waiting for Rahul but he never visited the holy place.
The CJM Court had examined seven witnesses, including elected members of the Satra, and taking cognisance had fixed today's date to decide whether or not summons would be issued against Rahul Gandhi as an "accused".
--PTI