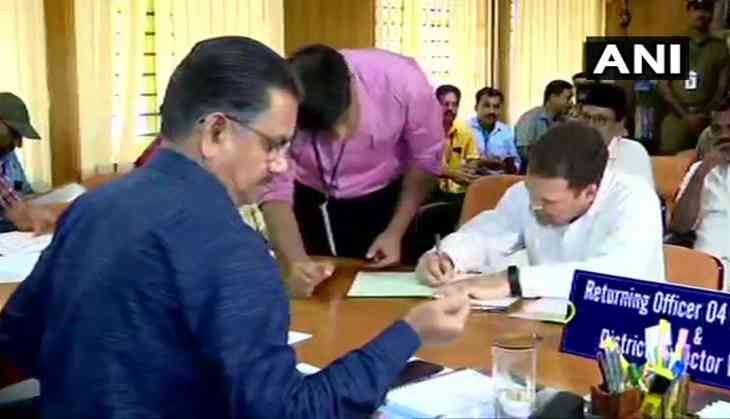 Rahul Gandhi files nomination
Congress president Rahul Gandhi has filed his nomination from the Wayanad constituency in Kerala, and was accompanied with sister Priyanka Gandhi Vadra.
Kerala is scheduled to vote on April 23 and the CPM has already raised dissenting voice against Gandhi's candidature from Kerala and have said that they will 'ensure that Rahul Gandhi is defeated from Wayanad.' The NDA has also fielded its candidate from the seat.
The election which is scheduled to begin form April 11 will see a contest in Amethi, where Rahul Gandhi will be contesting against Smriti Irani. The former is also contesting from Wayanad, after the a request from the local leadership and workers.
Kerala: Congress President Rahul Gandhi files nomination from Wayanad parliamentary constituency. #LokSabhaElections2019 pic.twitter.com/abn2g9ahQE

— ANI (@ANI) April 4, 2019
Warning the people of Wayanad, Irani said, "I want to warn Wayanad. If you want to see Rahul Gandhi's capabilities as an MP, come and see the state of Amethi. The person who has been betraying Amethi for the last 15 years has come to your place to cheat you."
Smriti Irani is currently on a two day visit to Amethi, for campaigning as the home turf of the Gandhi scion is again under severe contest and the narrative laid down by the BJP, that Rahul Gandhi has "betrayed" the people of Amethi can be reverberating in the minds of pollsters.
Smriti Irani said, "He enjoyed a position of power for 15 years because of the support from Amethi, but now he is going to file nomination from elsewhere.This is an insult of Amethi and people here will not tolerate this."
also read: NaMo TV has no broadcast license, didn't apply for it, claims report