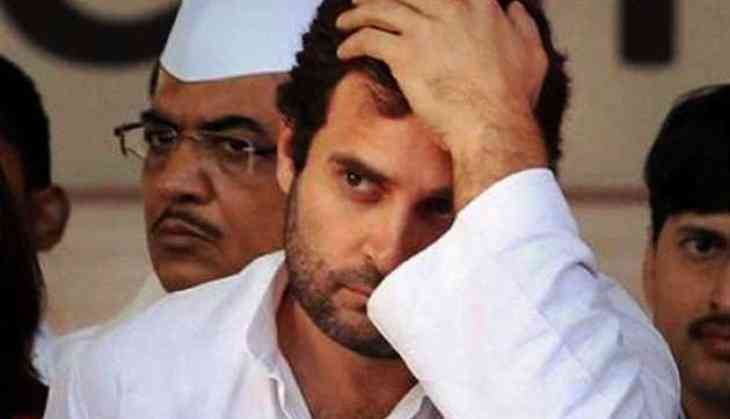 Shiromani Akali Dal MLA Manjinder Singh Sirsa on Monday said Congress president Rahul Gandhi came to observe fast at Rajghat after having lunch.
Sirsa was reacting on a photo wherein some of the Congress leaders were seen eating before sitting on fast to protest against Prime Minister Narendra Modi government and to promote communal harmony and peace across the country.
Member of Legislative Assembly (MLA) from Delhi Sirsa said that no Congress leader has observed a fast for the country.
"Even Rahul Gandhi came to fast at 1 p.m. after having lunch. Same is the case with other Congress leaders," Sirsa claimed.
The Akali Dal leader alleged that the Congress' mentality is of loot and its leaders cannot remain hungry.
"These people (Congress) have a mentality of eating; of looting peoples' money in the form of scams. They (Congress leaders) cannot fast as they are not habitual of being hungry," Sirsa said.
Meanwhile, Bharatiya Janata Party (BJP) leader from Delhi Harish Khurana claimed Congress leaders were earlier today seen eating at restaurant in Delhi before sitting on a protest and observing fast at Rajghat over atrocities on Dalits.
"This picture (of Congress leaders eating before fast) reveals double-standard of Congress. On one hand they are claiming to observe fast, on the other hand they are seen having food at a restaurant. The picture is authentic. Let them deny it," Khurana said.
He alleged that the Congress leaders had been suppressing Dalits and doing theatrics in the name of Dalits while adding, "One of the mottos of the Congress' protest was atrocities on Dalits under Narendra Modi rule".
The Congress led by party president Rahul Gandhi on Monday observed a day-long fast at Raj Ghat to protest against the BJP government and non-functioning of the Parliament. (ANI)