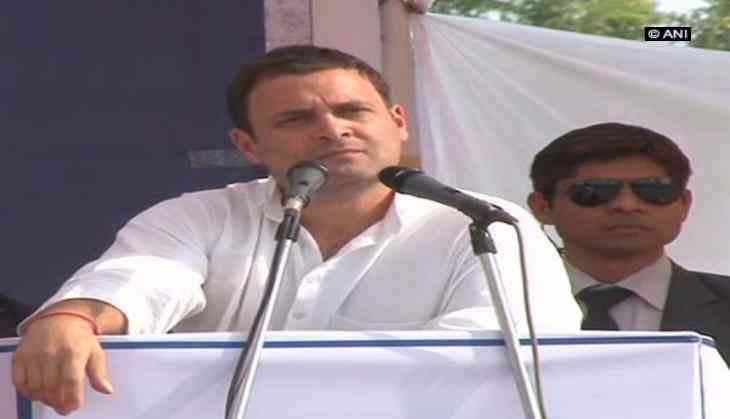 Congress vice-president Rahul Gandhi on 9 December alleged that the Bharatiya Janata Party (BJP) government grabbed the land of farmers and gave it to the industrialists.
Congress scion Rahul Gandhi, while addressing a public rally in Gujarat's Harij, said, "At least 6.5 lakh acre lands of the farmers have been snatched by the BJP government and gave it to some of the biggest industrialists of Gujarat."
"Lands of five villages were grabbed by the BJP government for the Tata Nano factory. They even promised to give jobs to the villagers, which is still not fulfilled," he alleged.
Rahul further said that although many states, IB and the Centre is under BJP, the essence of Gujarat is with Congress.
"They have everything -- Central goverment, Uttar Pradesh and Maharashtra governmnets, Intelligence Bureau (IB) but the Congress has nothing but the truth of Gujarat," said Gandhi.
The Congress scion also took a dig at Prime Minister Narendra Modi for only talking about himself and not about the development in Gujarat in his election rallies.
"Prime Minister is neither talking about the future of Gujarat, nor BJP's 22 years of tenure. He is only talking about himself," said Gandhi.
Gujarat has a total number of 182 assembly seats and the polling will be held in two phases.
Voting in 89 constituencies of Saurashtra and South Gujarat region in the first phase has begun today while the remaining 93 constituencies in central and northern regions will be held in the second phase on December 14. The votes will be counted on 18 December.
The Congress is eyeing to dethrone the BJP government in the state.
The last Congress government in Gujarat was led by Chhabildas Mehta from 17 February 1994 to 13 March 1995.
-ANI