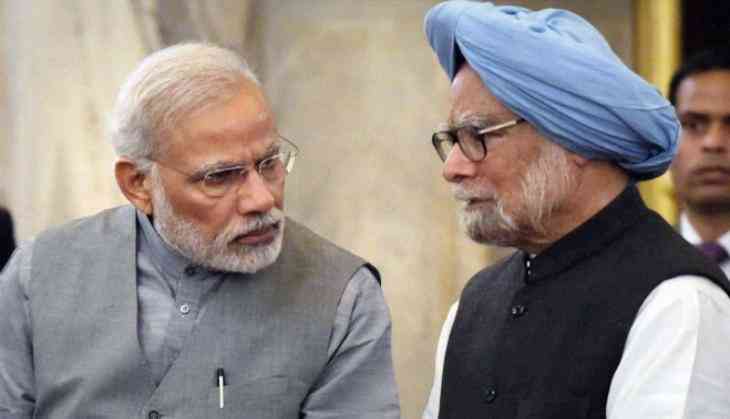 Former Prime Minister and Senior Congress leader Manmohan Singh lash out at PM Narendra Modi government on 36 Rafale aircraft over not agreeing for the joint probe in the matter.
"The people of the country are suspicious of the Rafale deal, the opposition and various groups are demanding a joint parliamentary committee but Modi government isn't ready for it. Isse pata lagta hai daal mai kuchh kaala hai," said Former PM Manmohan Singh.
The Opposition-led by Congress is alleging BJP government of Rs 5000 crore scandal in the 36 Rafale aircraft deal with Anil Ambani's Reliance. Following which they have been demanding a joint parliamentary committee but are not getting equal nods from Modi government.
The people of the country are suspicious of the #Rafale deal, the opposition and various groups are demanding a joint parliamentary committee but Modi government isn't ready for it. Isse pata lagta hai daal mai kuchh kaala hai: Former PM Manmohan Singh pic.twitter.com/f71OIEKl5y

— ANI (@ANI) November 21, 2018
Earlier, the Centre has submitted the pricing of the Rafale jet in a sealed envelope to the Supreme Court. In the recent hearing on the Rafale jet lawyer Prashant Bhushan on its pricing issues said, "on pricing, there can't be any secrecy issue when govt itself disclosed the price in Parliament. It's a bogus argument for govt to say they can't disclose pricing. In a new deal, Rafale jets cost 40% more than earlier deal."
Thereafter, CJI Ranjan Gogoi called upon the Indian Air Force officers to clarify the doubts over the Rafale jet and asked the attorney general KK Venugopal, "Is any officer from Indian Air Force present in court to answer the queries on the issue? After all, we are dealing with the air force, we would have liked to ask from the officer of the Air force on the issue."
CJI Ranjan Gogoi has said, "Any debate on the pricing of the Rafale deal comes only if this Court decides those aspects needs to come in public domain."
Also read: Telangana Election 2018: Telangana's richest lawmaker quits KCR's party ahead of polls; sends 3-page criticism, likely to join Congress