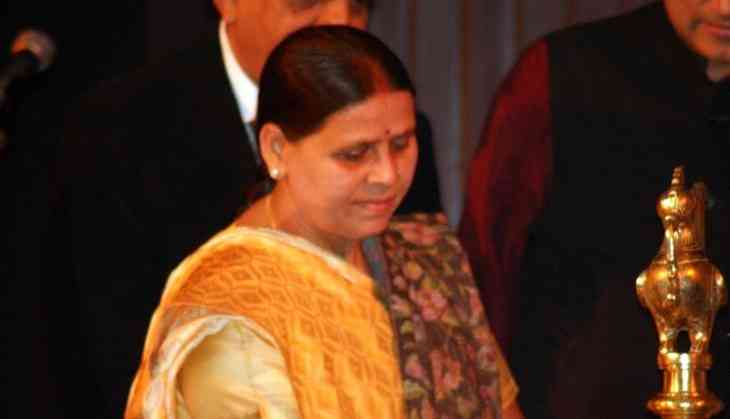 Rashtriya Janata Dal (RJD) chief Lalu Prasad Yadav's wife Rabri Devi on Monday hit out at Bihar Chief Minister Nitish Kumar and Deputy Chief Minister Sushil Modi stating that the resignation from their respective posts is mandatory for further investigation on the Bhagalpur Srijan scam.
Angrily speaking to the reporters here, Rabri Devi said, "Without Nitish Kumar and Sushil Modi's resignation, how can the investigation be done? There is a scam in whole of Bihar with Bhagalpur case issue. Without a resignation, the CBI probe will not be complete. This case should be investigated by a retired judge of the Supreme Court."
Rabri's statement comes after Sushil Modi yesterday came out with a fresh allegation against Lalu and his family saying that the RJD chief's wife had acquired land worth over Rs. 2 crore in lieu of which favours were allegedly granted.
Sushil Modi revealed that the latest technique adopted by the 'Lalu parivar' is the transfer of property using the power of attorney as a medium.
"In the past, Lalu Yadav has accepted land from former Bihar Public Service Commission chairman Ramashray Yadav, in exchange of giving him this position. He is in possession of crores worth of money and illegal property, and is finding out new techniques for the same," alleged Sushil.
In a detailed disclosure of the list of illegal property Lalu had in possession, Sushil alleged that by means of transfer of the power of attorney, Lalu succeeded in avoiding disclosure of the real extent of property owned by him.
"Starting with the BPSC chairman, Lalu had his property registered through other means apart from his own name, such as in the form of gifts, companies and so on. Once the property was registered in another person's name, such as that of Ramashray Yadav, the power of attorney would be transferred on certain clauses, with the end ownership of property going to Lalu Yadav, his wife Rabri Devi or any member of his family or close aides," said Sushil, adding that he would expose the RJD supremo further with any available document.
Meanwhile, earlier in the day, one of the arrested accused in Srijan scam case, Mahesh Mandal, died of cancer in a hospital.
The doctors state that he was suffering from cancer and that his kidneys were damaged.
Lalu Prasad Yadav took to Twitter saying that the deceased, Mahesh Mandal, was a renowned member from Bihar Chief Minister Nitish Kumar's party and was the father of a rich leader of the Janata Dal (United) (JD(U)).
A special investigation team (SIT) of the Economic Offences Unit (EOU) had been inquiring the scam.
According to reports, the public money, which was kept in the state government and the district administration bank accounts, had been diverted to the bank accounts of a Non-Governmental Organisation (NGO) Srijan, its employees and bank officials.
The NGO was founded by Manorama Devi and is being run by her son and his wife after her death.
-ANI