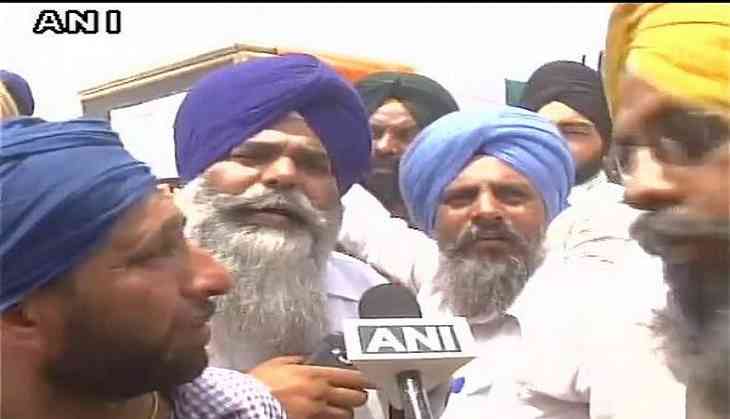 The family of slain solider Naib Subedar Paramjit Singh, whose body was brutally mutilated by the Pakistani Army in Krishna Ghati, Jammu and Kashmir opened the coffin to see his body before cremating.
The martyr's cremation was held up for a while after his kin created a scene, demanding to see his body first.
"Whose body is this? It is all behind this box! We are not being shown the body? Why are they not showing us the body, they just said that it is Paramjit's body. It is just written on the box," said the kin of the solider.
However, after seeing his body, the satisfied family of the soldier proceeded to cremate his body with full honors.
Mourning the demise of their beloved brother Naib Subedar Paramjit Singh, the family called on the Centre to assure justice and go to war with Pakistan if they have to.
"The Centre should take strict action. If war is the solution, then we should just go to war with Islamabad and finish the issue once and for all. By any chance if the issue can be sorted out with dialogue then even that should be tried," said the brother of the slain jawan.
Earlier on Monday, the Pakistan's brutal Border Action Team (BAT) again mutilated the bodies of two Indian soldiers on Monday in Krishna Ghati sector along the Line of Control, where they had beheaded Lance Naik Hemraj in 2013.
The Indian Army confirmed the involvement of the BAT in the gruesome act beheading Indian soldier.
The Pakistani soldiers along with their Border Action Team (BAT), which include trained border inhabitants, launched a joint attack.
They first fired rockets and followed this up with firing from automatic weapons, near Kranti Post located in Poonch's Krishna Ghati Sector around 8.30 a.m.
The Pakistanis then crossed the LoC, entered 200 meters into Indian territory, and attacked a joint patrol of the Army and Border Security Force (BSF), heading towards a nearby post.
It is the same Krishna Ghati sector where the Pakistani BAT had beheaded Lance Naik Hemraj and badly severed the head of Lance Naik Sudhakar Singh of 13 Rajputana Rifles, on January 8, 2013.
-ANI