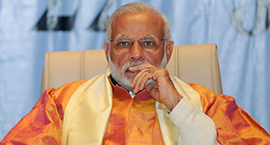 The Overseas Friends of BJP, a group comprising BJP loyalists among the Indian diaspora, is preparing to become a formal, structured body that will work as a pressure group in countries such as the US, the UK, Australia, Canada and the UAE, reports The Economic Times.
The idea is to engage in activities that will strengthen India's clout in the countries where the group functions.
"We plan to make the Overseas Friends of BJP a structured body that works on a sustained basis throughout the year," said a source in the BJP. "It would work as a pressure group for India's cause in these countries and be in touch with the governments, political parties, influential professionals and other bodies. The diaspora should sell India's strengths to the people and government in these countries."
The group will continue to be called Overseas Friends of BJP in all countries except the UAE, a Muslim-dominated country. The people behind Prime Minister Narendra Modi's foreign trips will handle the restructuring of the group.