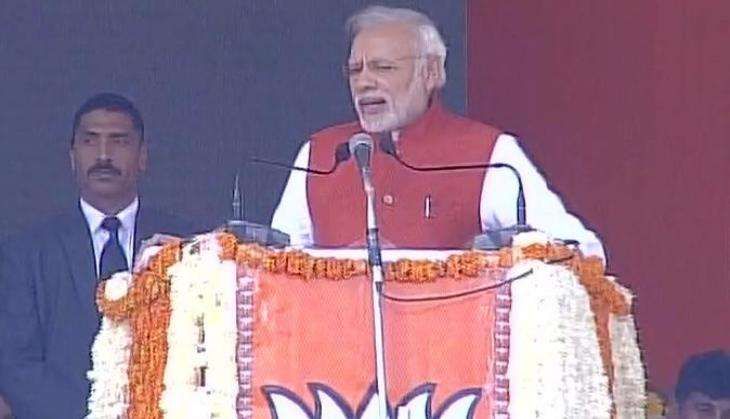 Prime Minister Narendra Modi will visit his parliamentary constituency Varanasi on 22 December during which he will interact with nearly 20,000 booth-level party workers at the Diesel Locmotive Works (DLW).
The visit is supposed to set the tone for the BJP's foot soldiers for upcoming assembly elections in Uttar Pradesh, a state where politics has been dominated by two rival regional players - the ruling Samajwadi Party and the Bahujan Samaj Party.
This will be prime minister's ninth tour of Varanasi since he took charge in May, 2014.
The trips to Uttar Pradesh are being taken as an effort by the prime minister to improve BJP's tally in the 403-strong UP Assembly where it has less than 50 MLAs.
The prime minister will flag off some projects during his visit. This includes laying of foundation stones for a cancer centre and a super-speciality hospital at the Benares Hindu University where PM Modi will also spend some time at the "Rashtriya Sanskriti Mahotsav" (national cultural festival), a week-long event organized by the Union Ministry for Culture where artistes from across the country, some of them of international repute, have been performing.
From BHU premises, PM Modi will leave for a brief tour of Kabir Nagar locality, named after the 17th century mystic and poet, and inspect underground cabling and heritage lighting work, which is being carried out as part of the IPDS (Integrated Power Development Scheme) and HRIDAY (Heritage City Development and Augmentation Yojana) schemes, as per PTI.
Later, the Prime Minister will reach DLW, where laying of foundation stone for a 150-bed ESIC (Employee's State Insurance Corporation) super speciality hospital and inauguration of a trade facilitation centre and a crafts museum besides launching of a number of schemes and projects under the Textiles Ministry will take place.
-With PTI inputs