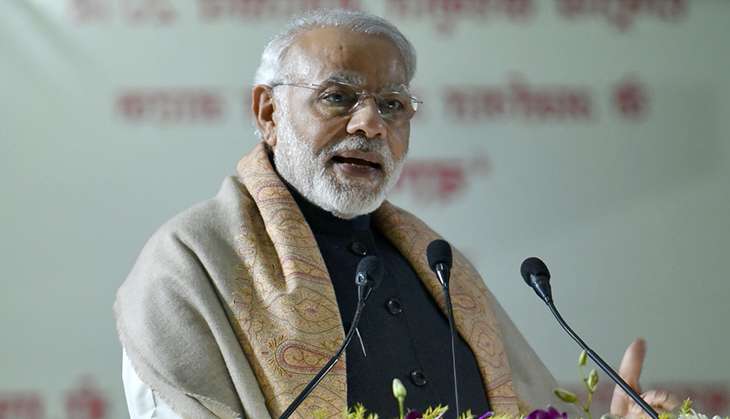 Prime Minister Narendra Modi, on 31 December, is likely to address the nation this evening, and according to reports, is expected to spell out the post-demonetisation roadmap.
This will be his second address to the nation since his announcement to scrap 1,000 and 500 rupees notes on 8 November.
While announcing the landmark decision, he had asked the people to give 50 days for demonetisation and getting accustomed to a cashless economy.
In a television address to the nation on 8 November, Prime Minister Modi said, "The magnitude of cash in circulation is directly linked to the level of corruption. Inflation becomes worse through the deployment of cash earned in corrupt ways."
He said to break the grip of corruption and black money, the government has decided that from midnight Rs. 500 and Rs. 1,000 currency notes will cease to be legal tender.
"The Rs. 500 and Rs. 1,000 notes hoarded by anti-national and anti-social elements will become just worthless pieces of paper," he added.
Till date, the government has made several changes to the norms.
After reports on crop sowing taking a hit due to no availability of cash, the government allowed the farmers to buy seeds with old Rs. 500 currency notes.
A November 17 announcement allowed the farmers to withdraw up to Rs. 25,000 per week from their KYC-compliant account.
Following reports on abuse of Jan Dhan accounts, the Reserve Bank of India (RBI) capped the withdrawal limit to Rs. 10,000 per month.
On 17 November, the government made more modifications to the existing rules. Families could now withdraw up to Rs. 2.5 lakh for weddings.
The currency exchange limit was reduced from Rs. 4,500 to Rs. 2,000 per person.
The traders in agricultural mandis were permitted to draw up to Rs. 50,000 in cash per week to pay for sundry expenses like wages. Also, government employees up to Group C could draw Rs. 10,000 salary in advance in cash.
The demonetisation decision has also taken a toll on the common man, with reports of some dying while standing in queues to collect money.
In between all this, Prime Minister Modi has continued to address the nation at various public gatherings and through his 'Mann ki Baat' radio programme.
Making an emotional appeal at an event in Goa on November 13, Prime Minister Modi asked the "honest" people of the country to bear the hardships for another 50 days.
Exactly two weeks later on 27 November, the Prime Minister urged the farmers and small traders to go cashless at his monthly 'Mann ki Baat' address.
"The common man will be trouble free if they are made aware of the digital financial transaction options," he said asking the youth to lead the change.
The opposition cornered the government during the winter session of parliament over the inconvenience faced by the nation post-demonetisation.
--ANI