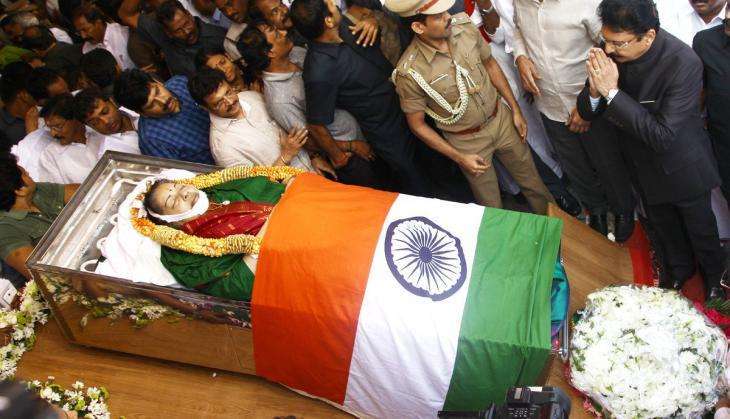 J Jayalalithaa, the common man's Amma, breathed her last in Apollo Hospitals, Chennai, at 11:30pm on 5 December. She was admitted in the hospital after she complained of fever and dehydration in September but lost the battle after suffering a cardiac arrest.
News of her demise spread like wildfire and supporters flocked in high numbers on the streets to mourn the death of their beloved leader.
Jayalalithaa will be accorded a state funeral at the MGR memorial park, Marina Beach. While Prime Minister Narendra Modi will be visiting Rajaji Hall to pay homage to Jayalalithaa, President Mukherjee returned halfway as his plane developed a technical glitch.
The AIADMK and PM Modi were among the first ones to tweet out their condolences.
Our beloved leader, The Iron Lady of India Puratchi Thalaivi Amma is no more.

— AIADMK (@AIADMKOfficial) December 5, 2016
Deeply saddened at the passing away of Selvi Jayalalithaa. Her demise has left a huge void in Indian politics.

— Narendra Modi (@narendramodi) December 5, 2016
She was an iconic & courageous leader. This is an irreparable loss to the people of TamilNadu. #Ironlady #RIP

— M.K.Stalin (@mkstalin) December 5, 2016
It is tragic. It is painful. She was a woman of dignity and self - respect. We shared a warm personal relationship.#jayalalithaa

— Sushma Swaraj (@SushmaSwaraj) December 6, 2016
#Jayalalithaa ji's work for the people is inspiring.
May Her soul rest in peace.
My deepest condolences to the people of Tamil Nadu.

— Devendra Fadnavis (@Dev_Fadnavis) December 5, 2016
She is a really revolutionary leader PuratchiThalaivi,unparallel. Always admired her Courage,Conviction,Dynamism,Wisdom,Bold administration

— M Venkaiah Naidu (@MVenkaiahNaidu) December 5, 2016
Puratchi Thalaivi Selvi Jayalalitha lived for Tamil Nadu - She will continue to live in hearts of Tamil Nadu people for ever

— M Venkaiah Naidu (@MVenkaiahNaidu) December 5, 2016
We lost a great leader today.Women,farmers,fishermen &the marginalised dreamt through her eyes.We will miss Jayalalithaa ji,Amma to millions

— Office of RG (@OfficeOfRG) December 5, 2016
Heartfelt condolences on the sad demise of Ms. Jayaram Jayalalithaa, Chief Minister of Tamil Nadu #PresidentMukherjee

— President of India (@RashtrapatiBhvn) December 5, 2016
Popular,strong,bold,efficient, people- friendly,charismatic leader,
Amma.Always at the heart of people. Big loss.I am shocked,saddened 1/2

— Mamata Banerjee (@MamataOfficial) December 5, 2016
I humbly urge the people of Tamil Nadu and AIADMK to face this big loss with courage and greatness. May she Rest in Peace 2/2

— Mamata Banerjee (@MamataOfficial) December 5, 2016
V sad to hear the demise of Amma. A very very popular leader. Aam admi's leader. May her soul rest in peace.

— Arvind Kejriwal (@ArvindKejriwal) December 5, 2016
I pay my heartfelt tributes to the departed soul. I also appeal to the people of Tamil Nadu to remain calm in this hour of grief.

— Rajnath Singh (@rajnathsingh) December 5, 2016