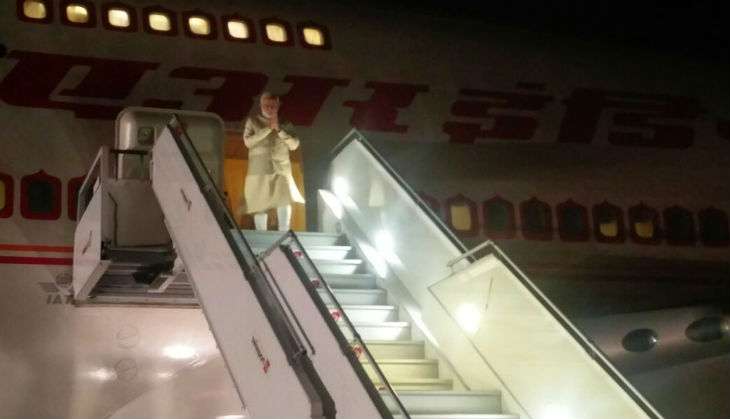 Prime Minister Modi reached Geneva late on 5 June on the third leg of his five-nation tour after his visit to Afghanistan and Qatar. On 6 June, PM Modi will hold talks with President of Swiss Confederation Johann Schneider-Ammann in Geneva.
All eyes are on Geneva ahead of the meeting between India - a strong believer in Non-alignment - and Switzerland - a traditionally neutral nation.
The discussions between the two leaders are expected to focus on bilateral, regional and multilateral issues of mutual interest.
The hopes on the outcome of bilateral discussions are high as an Indian Prime Minister is visiting Switzerland for the first time on a state visit almost after five decades.
Also Read: PM Modi on a five-nation tour. Here's his packed itinerary
Delegation-level talks also will be held between the two sides on the occasion. PM Modi will interact with a select group of Switzerland business leaders during his short visit.
Through his interaction with the Swiss business leaders, Prime Minister Modi is likely to boost confidence levels of investors in India. Human resource development matters such as encouraging Swiss Model of learning as part of the human resources development initiatives also likely to come up during the bilateral discussions.
PM Modi is also likely to raise the issue of black money stashed by Indians in Swiss banks. The two countries are working on finalising an arrangement that could pave the way for automatic exchange of information on tax-related issues.
He is also likely to seek Switzerland's support for India's membership of the 48-member Nuclear Suppliers Group (NSG) as it is a key member of the elite grouping. The support of Switzerland for India getting the entry into the NSG is crucial as a high level NSG meeting is scheduled later during the month to finalise new memberships.
The visit gains significance as India seeks for membership so that it will ensure access to technology through that, India can meet its climate change commitments with clean energy and stability and the ease of doing business, irrespective of the political dispensation.
--ANI