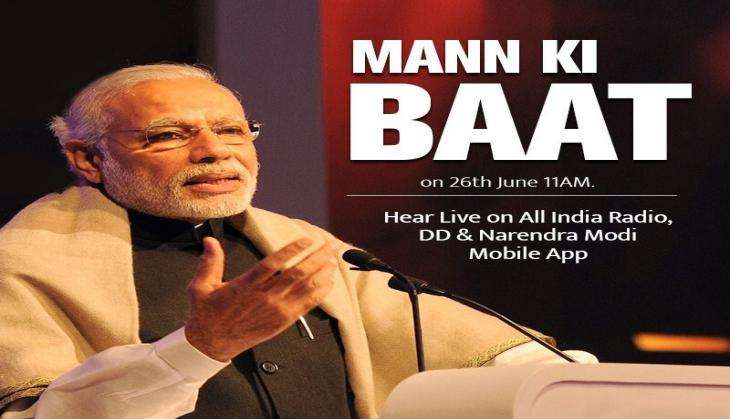 Prime Minister Narendra Modi addressed the nation on 26 June through the 21st edition of his Mann Ki Baat radio programme.
PM Modi has consistently encouraged people to contribute to the programme through the MyGov Open Forum. Listeners can also call the toll-free number 1800-3000-7800 and record their message. Selected voice messages may be aired during the programme.
In a short while from now, #MannKiBaat beings. Join. https://t.co/jzzDvIdM9R or hear it on your mobile. https://t.co/TYuxNNJfIf

— Narendra Modi (@narendramodi) June 26, 2016
Here is a look at some of PM Modi's top quotes from his Mann Ki Baat on 26 June:
- "Like our farmers, our scientists are also working hard to take our country to new heights".
- "The academic satellite is a classic example of high ambitions of Indian youth".
- "The two satellites built by students and launched by ISRO are very important and special for me".
- 'Beti Bachao Beti Padhao' Bharat mein jan jan ki Mann Ki Baat ban gayi hai.
- "On 18th June, first batch of women fighter pilots inducted in Air Force. Women are excelling in many fields. We feel very proud, I congratulate them and their families".
- "International Yoga Day was celebrated at over 1 lakh places in our country with enthusiasm".
- "Yoga has the power to connect the entire world, if only each one of us connect ourselves with Yoga."
- "Yoga has abilities of curing diabetes. I urge people to share their experience on social media".
- "Kabhi kabhi Mann Ki Baat ka mazaak udaaya jata hai, aalochna ki jati hai, ye isliye sambhav hai kyunki hum loktantra ke liye pratibadhh hain ( Mann Ki Baat is criticised very often, but this is possible because we are in a democracy.)"
- "Democracy has given us strength, but the night of 25-26th June 1975 was the darkest night for democracy".
- "All rights of citizens were taken away,country was turned into jail.Many political leaders like Jayaprakash Narayan were put behind bars".
- "We must not forget that our power is democracy, our power is in every citizen's strength".
- "We lose our peace by violating rules, why not give correct information about our income and assets to government?"
- "People with undisclosed assets have an opportunity to declare their assets before 30th September."
- "This will also help them avoid difficulties which they might face after 30th September".
- "In a country where a Govt employee donates Rs 5000 every month out of his monthly pension of Rs 16000, nobody has a right to evade taxes".
- "Retired government employee Chandrakant Kulkarni gave me 52 post-cheques as donation for 'Swachh Bharat', he has set an example for us".
In the last edition of Mann Ki Baat that held on 22 May, PM Modi spoke about Board Exam results and discussed issues like water conservation, monsoon and about world moving towards a cashless society.
In the earlier editions of the popular radio programme, PM Modi touched upon several issues, including water conservation, Swachh Bharat Abhiyan, promotion of khadi, skill development, scholarship for disabled children, infrastructure for educational institutions, menace of drugs and farmers' problems along with many other things.