Prime Minister Narendra Modi is on a five-nation tour to Switzerland, the United States and Mexico.
On his first leg of the tour, PM Modi visited Afghanistan, where he inaugurated a $290 million hydroelectric dam with Afghan President Ashraf Ghani in the western Herat province.
"Afghans and Indians have dreamt of this project in the 1970s," Modi said at the inauguration of the 42 megawatt Salma Dam.
PM Modi was also accorded the highest-civilian award in Afghanistan before he left for Qatar.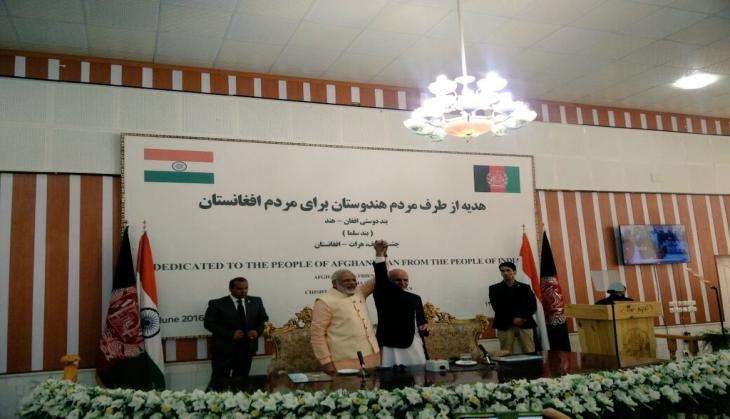 Photo: Twitter/MEA
Qatar: 5 June
Namaste Qatar! Its wheels down in Doha as PM @narendramodi arrives for the second leg of his journey pic.twitter.com/694jKLJNMK

— Vikas Swarup (@MEAIndia) June 4, 2016
On 5 June, PM Narendra Modi held talks with Qatar Emir Tamim Bin Hamad Al Thani in Doha.
He also held a meeting with business leaders to discuss trade and investment in Doha. India and Qatar signed seven bilateral agreements - including MoUs in cooperation in the field of sports, health and skill development.
PM Modi is also expected to visit a camp of Indian workers. Qatar Prime Minister Abdullah Bin Nasser Bin Khalifa Al Thani will also host a dinner for PM Modi.
This is PM Modi's first visit to Qatar.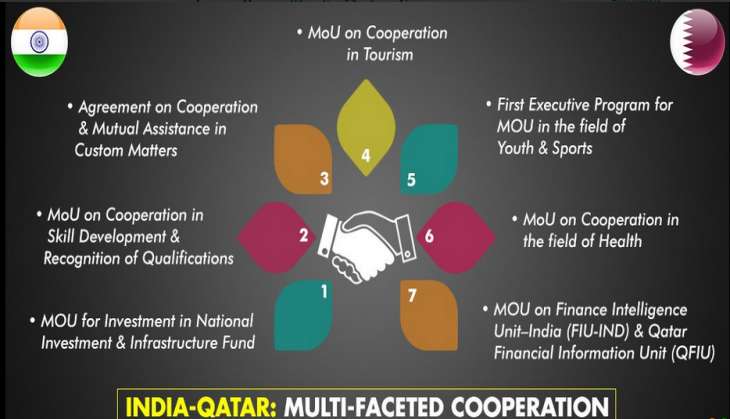 Photo: Twitter/ MEA
Geneva: 6 June
In a post on Facebook, PM Modi said he will reach Geneva in the evening of 5 June, as a part of his bilateral visit to Switzerland.
"During the stay, Modi and Swiss President Johann Schneider-Ammann will hold discussions on bilateral, regional and multilateral issues of mutual interest," the External Affairs Ministry said.
Following the meeting with President Johann, he will meet businessmen to expand economic and investment ties. PM Modi will also meet Indian scientists working at CERN as India takes pride in its contribution to exploring new frontiers of science in the service of humanity.
The visit is expected to give an impetus to the process of exchanging information on black money stashed in Swiss banks.
US: 7-8 June
PM Modi will reach Washington DC on a bilateral visit in the evening of 6 June.
He will meet President Barack Obama on 7 June. His tightly-packed US schedule includes:
Delivering an address the 40th AGM of the USIBC.
Meeting US business leaders.
Visiting the Arlington Cemetery - where he will pay homage and lay wreaths at the Tomb of the Unknown Solider and Space Shuttle Columbia Memorial, which also claimed the life of Indian-origin astronaut Kalpana Chawla.
On 8 June, he will visit the US Capitol and interact with the members House of Representatives and the Senate and address a Joint Meeting of the US Congress - the high point of his trip there.
He is also scheduled to attend meeting about the repatriation of cultural property.
Mexico : 8 June
In the first visit by an Indian Prime Minister to Mexico in 30 years, Modi will land in Mexico City on 8 June, where he will meet Mexican President Peña Nieto.
The bilateral relations between India and Mexico have witnessed renewed vigour and activity in the last two years.
In Mexico, PM Modi will aim to carry forward the momentum in the bilateral relations and discuss cooperation in areas such as space, energy, agriculture and science and technology among others, the External Affairs Ministry said.