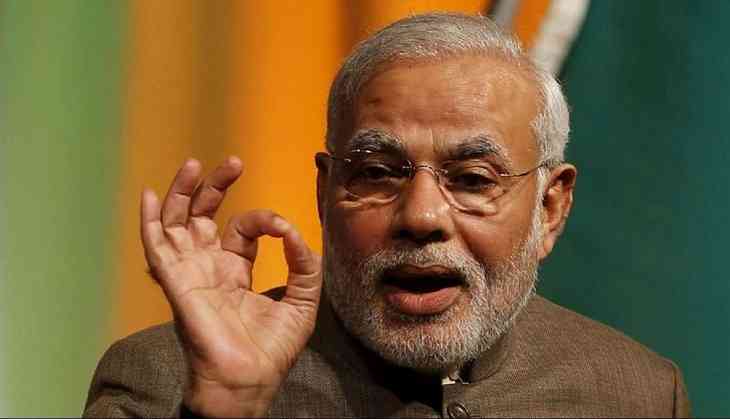 Defending fielding Sadhvi Pragya Thakur from Bhopal against Congress' Digvijaya Singh, Prime Minister Narendra Modi on Friday said She as BJP candidate is a "symbolic" answer for those who described Hindus as terrorists "terrorist". He also said she will give a tough fight to the Congress there.
While defending fielding of Pragya Singh Thakur, a prime accused in 2008 Malegaon blast, who is out on bail, PM Narendra Modi asked why no such questions are being asked when Congress president Rahul Gandhi and his mother Sonia Gandhi, who are contesting polls despite being on bail.
"In Amethi, they (Congress) have a candidate (Rahul Gandhi) who is on bail, in Rae Bareli, they have a candidate (Sonia Gandhi) who is on bail, but there is no debate on that. But if the candidate from Bhopal is on bail, there is so much of outcry," he said and asked, "how can this (duplicity) go on?"
"One woman, that too a 'sadhvi', was humiliated in such a manner," PM Modi said in an interview to Times Now while answering a question on fielding of Pragya Thakur from Bhopal Lok Sabha seat.
"Samjhauta Express verdict came. What came out? Without any evidence, a rich civilization as old as 5000 years, which gave the message of 'the whole world is one'... Did you call such a civilization terrorist? To give a reply to all such people, this (fielding of Pragya Thakur) is a symbol and this symbol will cost the Congress dearly," the prime minister added.
Slamming the Congress, he referred to 1984, when the then prime minister Indira Gandhi was assassinated.
"Her (Indira's) son (Rajiv Gandhi) said when a big tree falls, the earth shakes. After that thousands of Sikhs were massacred in Delhi. Was it not the terrorism of certain people? Even after that, he (Rajiv Gandhi) was made the prime minister. The neutral media never asked any question with regard to that but is asking now," PM Modi said.
Sadhvi Pragya Thakur had joined BJP on Wednesday and has been pitted from Bhopal Lok Sabha seats against Congress leader Digvijay Singh.
Also read: Sadhvi Pragya Hemant Karkare remark; says 'I apologise and take my words back'